Here's the 50 MOST HATED Stocks on the NYSE
After a brief stint in the end of November dethroned Citi (NYSE:C) from the title of "most hated company" if not in the world then at least on the S&P, and replaced it with the traditional hedge fund long position offset, the SPY (NYSE:SPY), December has seen a valiant rebound by Citi shorts, which successfully pushed Pandit's company back to the top.
And with 355 million shares short, Citi is no danger of being overtaken any time soon by runner up, SPY.
The surge in shorting also likely explains why the same company has, courtesy of various forced buy ins, once again pulled a March 2009, and soared on absolutely nothing, as a short covering spree has taken the name double digits higher in days. We would have hoped that realist speculators would know by now that any time there is a surge in the short interest, it is immediately reported by the exchanges and the brokers to the custodians who in turn enjoy institute HTB days, which just sometimes see pervasive forced buy ins to generate an industry wide short squeeze. Just like we have seen in financials in the past several weeks.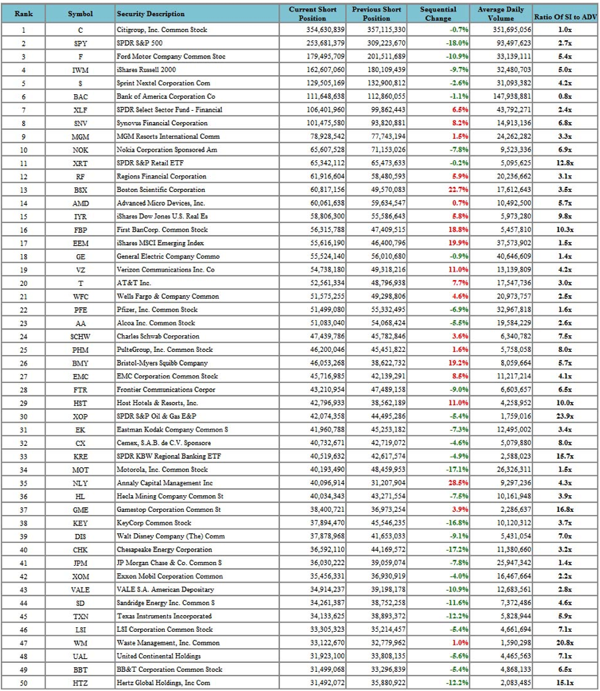 Some other notable observations: the short interest to average daily volume ratio in the KRE (NYSE:KRE), which we pointed out in the end of November was a massive 24.6x has since declined to a far more manageable 15.7x as short covering brought down the SI notably. As we expected the short covering took the price of the ETF notably higher.
For this week, the stock with the highest SI-to-ADV ratio is RCI with a stunning 70.5x, followed by such ETFs as XOP (NYSE:XOP) in 2nd place with 23.9x, KRE (NYSE:KRE) (at a still high 15.7x), XRT (NYSE:XRT) at 12.8x, and then a bunch of other high beta names that will soon likely pull a little Netflix (NASDAQ:NFLX) trampoline action as soon as State Street (NYSE:STT) pulls their borrow.
Lastly, there was little change in the Top 10 most shorted stock on the NYSE (NYSE:NYX). Oddly enough, the NYSE appears to have made a mistake and has accidentally dropped Q (NYSE:Q) from the Top 5 most shorted names, after last month the company had 144 million shares short.
Tyler Durden is the co-founder of ZeroHedge.
Don't Miss: Your Cheat Sheet for the Trading Week Ahead, Jan. 17 >>
The Bull Continues: Gold & Silver Premium Vastly Outperforms with 86.5% Return in 2010>>