Your Weekly Update on the Housing Situation
Housing had an interesting week. Reports of bidding wars in hot markets have bulls regressing back to some 2006 talk, while Robert Shiller warns hypesters are once again getting ahead of themselves.
On Friday, we learned sales of new single-family homes in the United States declined last month, but prices continue to receive support from low inventory levels.
According to new data released by the Commerce Department, home sales in December dropped 7.3 percent to a seasonally adjusted 369,000-unit annual rate. It was the biggest monthly drop in almost two years and well below expectations of 385,000. In comparison, sales in November were revised 21,000 units higher to a 398,000-unit annual rate.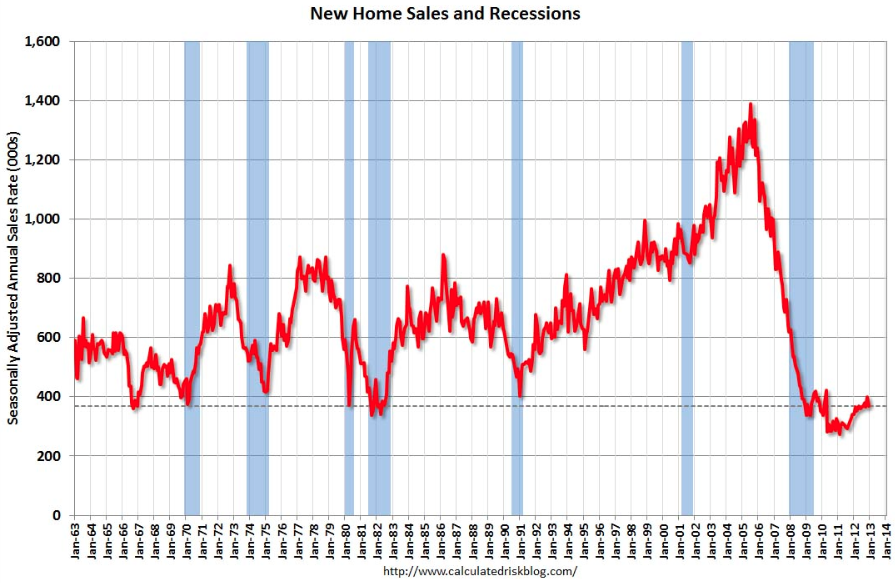 On a non-seasonally adjusted basis, the total number of new homes sold in the U.S. for December totaled 26,000, representing the lowest amount of sales since January 2012 and only 2,000 units more than December 2011. On the positive, the Commerce Department estimates that a total of 367,000 new homes were sold last year, a 19.9 percent improvement from 306,000 in 2011.
However, the situation is different for housing prices…
The median sales price of new houses sold in December was $248,900, while the average sales price was $304,000. The median sales price was $245,600 in November 2012. Two-thousand new homes were sold in the $500,000 or more categories, the same as December 2011.
Low inventory levels continue to aid prices. At the end of December, a seasonally adjusted estimate of new houses for sale was 151,000, representing a supply of 4.9 months at the current sales rate. This is the lowest supply since April 2012.
The report echoes a report earlier in the week from the Federal Housing Finance Agency, which showed that home prices increased 0.6 percent in November from October. For the 12 months ending in November, U.S. prices gained 5.6 percent. The FHFA index is back to 2004 levels, but still remains 15.2 percent below its April 2007 bubble peak. Zillow also said that national home values increased 5.9 percent last year.
Here's how top homebuilders reacted to the fresh news…
Toll Brothers (NYSE:TOL): Current price $37.98

KB Home (NYSE:KBH): Current price $18.55

D.R. Horton (NYSE:DHI): Current price $21.76

Hovnanian Enterprises (NYSE:HOV): Current price $6.21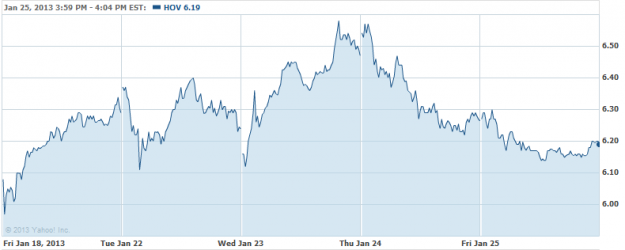 PulteGroup (NYSE:PHM): Current price $21.67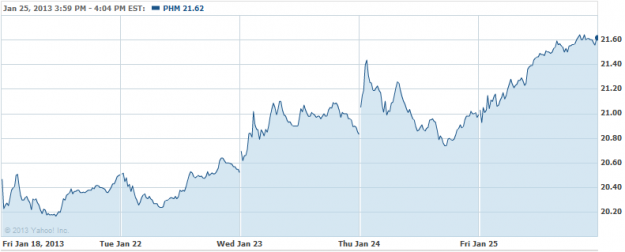 Lennar (NYSE:LEN): Current price $43.07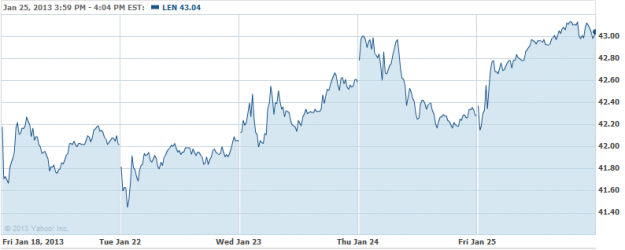 Don't Miss: Here's the Latest Update on the Housing Situation.