Here's the New Coffee Frontier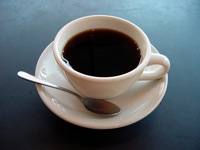 Both Americans and Europeans had picked their favorite: Green Mountain Coffee Roasters (NASDAQ:GMCR) is the top choice for single-serve coffee makers in the U.S. with its Keurig machine and Europe favors Nestle's (NSRGY.PK) Nespresso capsules.
China remains an open territory. On average, Chinese consumers drink less coffee than their American and European counterparts; only three cups are drunk per capita each year, while the French pour out an average of 604 cups. However, Bloomberg reports that "companies are wagering that there's latent demand in cities such as Shanghai, where rising wealth is whetting appetites for western luxuries."
Catalysts are critical to discovering winning stocks. Check out our newest CHEAT SHEET stock picks now.
"There may be a bit of a fight in China as the coffee market there generally is embryonic," said Kepler Capital Markets analyst Jon Cox to Bloomberg.
China has become the newest battleground for premium single-serve coffee manufacturers, Starbucks (NASDAQ:SBUX), Green Mountain Coffee Roasters, and Nestle, because the market is growing. Last year, the sales of coffee pods in China increased by 50 percent compared to the 19 percent sales growth for standard ground coffee.
A report in Forbes published on Wednesday indicated that expansion is of particular importance to Green Mountain Coffee, which has seen its growth in the United States slow. Increased competition from Starbucks's Verismo single-serve system has played a role in the company's problems. According to the report, the coffee company is expecting sales growth to decrease by more than half this year.
Forbes also noted that the company is rearranging management. Green Mountain announced on Wednesday that the company's former head of the Canadian until will become president of international business development. Reuters reported that the news drove up the company's shares by 6 percent.
With China's growing middle class, which is expected to increase fivefold by 2030, there is room for expansion for Nestle as well as Starbucks and Green Mountain. Not only will China's middle class continue grow, but the soluble market for coffee retail sales is expected to double by 2015.
Many coffee companies are now looking towards the country as an opportunity. Starbucks has plans to introduce Verismo in 2013 and while Green Mountain has remained focused on North America thus far, that may change. Mondelez (NASDAQ:MDLZ), the snack and coffee business spun off from Kraft Foods (NASDAQ:KRFT), also may have plans to enter the Chinese market with its Tassimo coffee maker.
Nestle, however, already has a foothold in China. While the company has only three boutique stores in the country, its Nescafe instant coffee accounts for two out of every three cups drunk.
Societe Generale analyst Warren Ackerman told Bloomberg that China is set to become Nestle's second-largest market after the United States. He estimated that sales from that market may amount to 5 billion Swiss francs in 2012.
However, the path to dominance is not a straight one. "China is definitely one of the major growth markets, but it's still mainly young urban consumers and the majority of Chinese still prefer to drink tea, so companies will need to be patient," said Euromonitor analyst Hope Lee to Bloomberg.
Don't Miss: Will Green Mountain Expand Overseas?