Here's What January's Retail Sales Say About the Economy
The U.S. Department of Commerce reported its advance estimate of U.S. retail and food services sales for January, and the news is both unsurprising and underwhelming. Adjusted for seasonal variation but not price changes, total sales were $416.6 billion, a 0.1 percent increase from December and a 4.4 percent increase from January of 2011.
The advance month-over-month and year-over-year results were exactly in line with estimates. The expiration of the payroll tax holiday, the income tax increase on wealthy Americans, a holiday-season hangover, and general economic malaise were all widely expected to negatively impact sales. For some context, the expiration of the payroll tax holiday will pull about $1,000 from the paycheck of a family earning $50,000 per year. Across the board this means less money in the pockets of the 160 million Americans who pay the tax.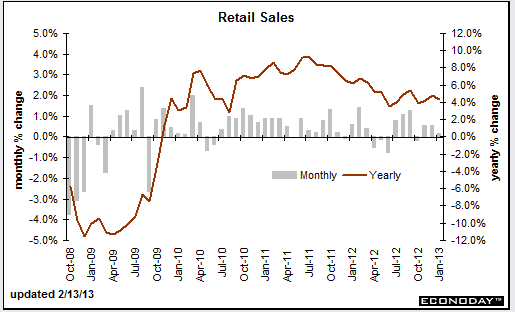 January's modest retail sales growth is packed with some interesting information. At a glance, it's easy to see that auto sales were very strong year over year, increasing 8.0 percent, while general merchandise sales fell 1.0 percent for the period. But the month-to-month picture is very different between these two categories. Auto sales contracted 0.1 percent for the month-over-month period, while general merchandise sales increased 1.1 percent.
One of the key highlights here that even President Barack Obama echoed in his State of the Union address last night is that strength is returning to the U.S. auto market. This is evidenced in strong year-over-year gains, as a seasonal decline in January auto sales is expected.

The Commerce Department's January retail report is flanked by the ICSC-Goldman and Redbook weekly retail sales reports, which were both released on Tuesday. Taken together, the reports broadly confirm what the government's report suggests, which is that new taxes are definitely weighing on figures, but year-over-year growth remains positive. Both reports showed year-over-year sales gains for the last two weeks of January, but reported tepid or negative week-to-week growth.
Over the past 12 months, retails sales have increased an unadjusted 4.4 percent, just over twice the rate of consumer inflation. This rate of growth is a decent proxy for the general economic health, as consumer spending accounts for up to 70 percent of economic activity, and retail sales account for about 30 percent of total consumer spending.
Following an unexpected contraction in fourth-quarter gross domestic product, the negative impact of the the new tax regime on retail sales will weigh against strong international trade data when the government reports its second estimate for fourth-quarter GDP growth at the end of the month.
Investing Insights: Is Coca-Cola an Outperform?