Here's What the New News Corp. Looks Like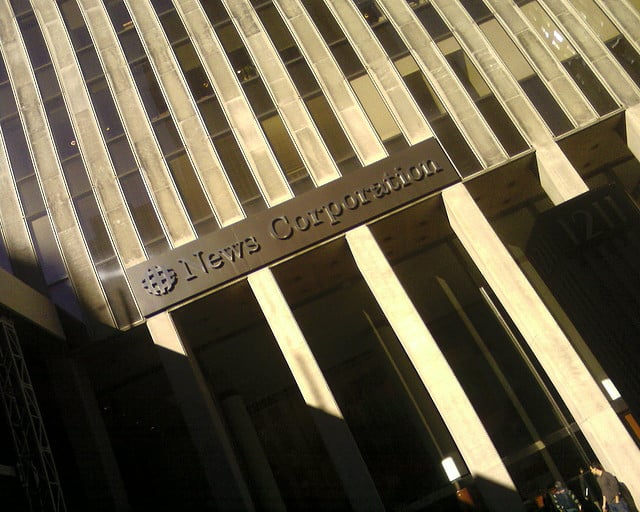 The News Corp. (NASDAQ:NWSA) split is now official, with the publishing and entertainment sectors of the company splitting up after years of pressure on Chief Executive Officer Rupert Murdoch to divide the company.
There's a lot of pressure on Murdoch to prove that the publishing arm of the company, which will keep the name News Corp., can be profitable. Murdoch's loyalty to the newspaper business has been heavily criticized for years as the publishing arm — which owns the New York Post, The Wall Street Journal, and HarperCollins book publishing — has struggled.
The newspaper business in general has been hit hard by shrinking ad sales and readership. It has been estimated that sales at the News Corp. publishing division will drop four percent in the next year, while the entertainment arm's profits are expected to grow 9.9 percent. That kind of disparity is what led to the decision to split up the company.
News Corp. was also hit hard by a phone-hacking scandal that led to one of its biggest tabloids, Britain's News of the World, being shut down. Some have pointed to that scandal as being the straw that broke the camel's back in terms of splitting up the company.
Though the new News Corp. is a fraction the size of the old company, it will still be the biggest newspaper business in the U.S. Murdoch will use $2.6 billion in cash to pursue more newspaper acquisitions, including possibly the Tribune Co. (NYSE:TRB) owned Los Angeles Times, as he seeks to prove newspapers can still be profitable.
The entertainment division of the company — which owns the 20th Century Fox film studio, Fox News, and the FX cable channels — will be renamed 21st Century Fox and trade under the tickers FOX and FOXA starting July 1. The new News Corp. will keep the old company's ticker.
Murdoch will remain Chairman and CEO of 21st Century Fox and Chairman of the new News Corp. Robert Thomson, editor of the Wall Street Journal was named the new CEO of the publishing arm.
Follow Jacqueline on Twitter @Jacqui_WSCS