Here's What Yahoo CEO Marissa Mayer Accomplished in Her First 100 Days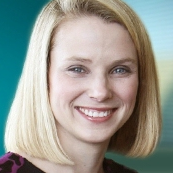 Yahoo's (NASDAQ:YHOO) third quarter earnings are of particular interest this year because it is first full quarter under the guidance of the company's new Chief Executive Marissa Mayer.
After nearly 100 days in office, Mayer and Yahoo released quarterly earnings on Monday that beat Wall Street's expectations. The company reported earnings of 35 cents per share and $1.09 billion in revenue excluding traffic acquisition costs. In comparison, analysts polled by Thomson Reuters had projected earnings of 25 cents per share and revenue of $1.08 billion. The company's earnings per share increased 66 percent year-over-year.
Catalysts are critical to discovering winning stocks. Check out our newest CHEAT SHEET stock picks now.
During Monday's conference call, Mayer said she had strengthened her management team, committed to transparency, established new performance measurements, and improved the company's culture since joining Yahoo in July.
But Mayer and Yahoo still face a large challenge: expanding into mobile. "Yahoo has to ride the platform shift in order to be relevant," said Mayer. "We've underinvested on mobile front-end development, and splintered brands."
She told investors and analysts that she had plans to hire mobile developers and designers in order to grow Yahoo into a mobile company. According to Mayer, however, the company already is well positioned. On the call, she said that smartphones are most frequently used to check weather and sports results, to play games, and to share pictures. These are areas in which the company already has leadership.
"In terms of vision, the core of Yahoo is incredibly valuable and there's a great platform to build on," said Mayer. "That means focusing on daily habits, investing in key verticals where we're already a leader and we need to make the bridge to mobile."
Mayer also said that it is important for Yahoo to be a good partner. "We don't have as much channel conflict a many comparable companies," she said. We can partner with social networks, with browsers, mobile operating systems. I think there's a great opportunity there."
In addition to developing a mobile platform, the company is looking to modernize Yahoo Mail and Messenger, improve the homepage, and grow market share.
Shares in the company spiked big time as investors were happy with what they heard. Looks like everyone believes Mayer will deliver over the coming quarters as well.
Yahoo! (NASDAQ:YHOO) shares achieved a new 52-week high of $16.78 Tuesday afternoon.
Investing Insights: Yahoo! Inc. Earnings: Investors Bid Stock Up on Heels of Good News.