Here's Why Americans Give Obama an F on the Economy
The summer months have not been kind to President Barack Obama, according to Gallup's daily tracking poll of his job approval rating. The president's approval rating climbed as high as 57 percent and his disapproval rating fell as low as 37 percent in December of 2012, but has fallen fairly steadily since then. As of the August 19-21 period, President Obama's approval rating is just 47 percent while his disapproval rating is 46 percent.
At a glance, the decline in the president's approval rating can be attributed to the various political ordeals that have emerged this year to date that have incited the anger of both Republicans and Democrats. These include the IRS targeting of conservative groups for additional screening and Edward Snowden's leak of National Security Agency documents, both of which pulled back the curtain on a government that appears at once mismanaged and dubiously motivated.
But these events are ultimately just blemishes on the Obama Administration. According to a separate Gallup survey, the most significant factor in President Obama's approval rating is his economic track record.
Not only do Americans value the president's handling of the economy more than issues such as healthcare, terrorism, immigration, or education, they also think he is doing a pretty bad job of it. President Obama's approval rating on the economy is at just 35 percent. The only thing he is handling more poorly, according to the Gallup survey, is the budget deficit.
However, perception over the budget deficit may be worse than reality. The United States budget deficit for July increased 40 percent compared to the month a year ago to $98 billion, according to the U.S. Treasury. Total spending increased 17 percent over the same period to $298 billion while total receipts increased 8.4 percent to $200 billion. Though July's data is somewhat ugly, the federal budget this year to date is more attractive than last year.
Overall, government revenues for the comparable year-to-date period are up about 14 percent while total outlays are down about 3 percent. This has reduced the total YTD budget deficit from $974 billion in the year-ago period to $607 billion in 2013. For the full year, the Treasury is estimating a budget deficit of $759 billion — a substantial improvement from the $1.1 trillion deficit recorded in fiscal 2013 (keep in mind the government's fiscal year ends in September).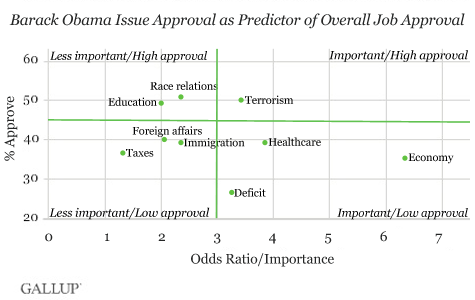 The president's low economic approval rating is consistent with a separate Gallup survey, which shows that economic confidence in general has declined over the course of the summer.
For a brief period in June, the outlook for future conditions turned positive and the current conditions index hit a local high of -9. Gallup's economic confidence index is the net result of the number of Americans who think conditions are good/getting better or are bad/getting worse.
Americans' assurance in the economy last month hit its lowest level since April. Gallup's economic confidence index fell to -12 in July compared to -8 in June and -7 in May. The decline in confidence occurred across all income groups, but middle and lower income Americans suffered more than upper-income Americans' confidence. So what is it about the economy that has failed to inspire trust in Americans?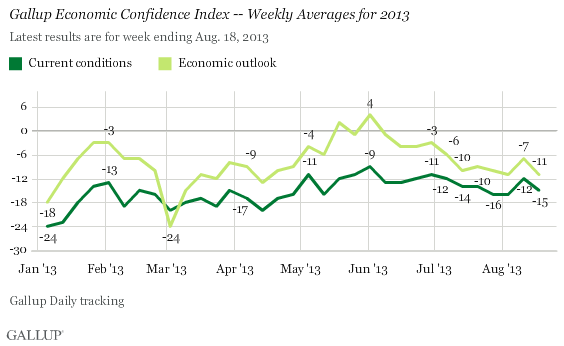 Overall, economic growth as measured by gross domestic product has also been slow. GDP grew at an annual rate of just 1.7 percent in the second quarter following an increase of 1.1 percent in the first quarter. The U.S. Federal Reserve is forecasting overall economic growth — as measured by change in real gross domestic product — of between 2.3 and 2.6 percent in 2013 and between 3 and 3.5 percent in 2014.
Unemployment is forecast to fall to between 7.2 and 7.3 percent in 2013 and between 6.5 and 6.8 percent in 2014. Annual inflation is expected in a range between 1.2 and 1.3 percent in 2013 and between 1.4 and 2 percent in 2014.
Perhaps the most visible metric of economic performance is employment or, more specifically, the lack thereof. Headline unemployment in the U.S. was 7.4 percent in July, 0.2 percentage points lower than in June, but still high enough to be a significant drag on the overall economy. About 11.5 million people are unemployed in the U.S.
Don't Miss: Is This a Sign Fed Tapering Will Hit the Jobs Market?