Here's Why Boeing Shares Are Hitting New Highs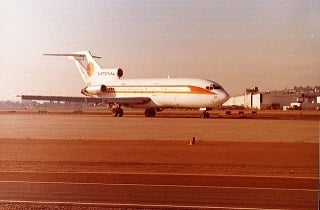 Boeing (NYSE:BA) will release third-quarter earnings on Wednesday, which will give both investors and analysts a vantage point from which to analyze the impact lowered government spending has had on the company's defense business and the degree to which the ongoing parade of Dreamliner malfunctions has affected its commercial business.
According to RBC Capital Markets analyst Robert Stallard, the challenge for both Boeing and rival Airbus will be to maintain the momentum that has sent shares for the two companies on a strong price run this year. In a research note obtained by Barron's, he wrote that third-quarter results could help push shares higher, though "any upside is likely to come from internal efforts on cash and margins, versus revenues."
Stallard also believes that the "strength in large jets is likely to remain in stark contrast with business jets, where [the firm is] expecting another weak quarter for demand in small cabin, with a steadier performance in the mid and large cabin segment." Furthermore, the National Business Aviation Association show, which coincides with the release of the earnings report on Wednesday, could highlight "some interesting new product launches, which have historically helped stimulate demand," he said, according to Barron's.
Boeing is also expected to unveil the latest model of its 777 jet at the Dubai air show in mid-November. The new model, the 777X, which boasts the largest engines ever put on a plane and key cost-saving technologies, could change trends in modern aircraft design, possibly turning aerospace manufacturers away from building ever-larger jets and making Boeing's iconic 747 jumbo jet a dinosaur.
Analysts and Boeing management alike are hoping that orders for the two-engine plane will offset the loss of a $9.5 billion contract from Japan Airlines (JALFQ.PK), which instead chose the Airbus 350 to replace its fleet of 777s. Lufthansa has already placed an $11 billion order with Boeing, and Peter Arment — an analyst at Sterne, Agee & Leach — has calculated that the sales tally may reach "well over 100 orders," worth more than $34 billion at list prices, after the Dubai show, Bloomberg Businessweek reports.
Of course, Boeing may cannibalize sales of the 747-8, but Bloomberg Industries analyst George Ferguson said the company has little choice but to take that risk because Airbus begins deliveries of its new wide-bodied A350 in 2014, and that plane competes with the current 777 directly — it has already received 1,112 orders. Comparatively, Boeing's Dreamliner has received 979 orders.
"We expect another good result from BCA after it delivered 170 aircraft in the quarter, one more than" in the second quarter of this year, noted Stallard, via Barron's. Of that total, 23 were the 787 Dreamliner, 26 were for the the 77, and four were for the 747. While the analyst's commentary made no mention of the Dreamliner, the problems the plane has experienced cannot be excluded from Boeing's earnings story.
The list of problems that have plagued Boeing's technologically advanced Dreamliner 787 is long, and while many airline operator executives have expressed confidence in the company's wide-bodied plane, it could be that the production problems have begun to deter some airlines.
One of the Dreamliner's key selling points, which has likely earned it much favor from airline executives, is that it consumes approximately 20 percent less fuel than other aircraft of the same size. But the technical advancements that have made the fuel savings possible, like its advanced lithium-ion battery, have also been problematic.
It was two Japan Airline-operated 787s that experienced the battery meltdowns in January that caused regulators to implement a four-month worldwide grounding of the 787 Dreamliner. It was the first such global grounding in 30 years, and the technical problems plaguing the aircraft likely influenced — at least, to some degree — the carrier's decision to purchase Airbus jets.
However, the loss of that order occurred after Boeing's third quarter came to an end. Still, the success of the Dreamliner is critical for the company moving forward, as air travel is expected to soar over the next several decades, and airlines are already looking to revitalize their fleets.
Even with the ongoing problems, Boeing's stock has remained near record levels, closing Wednesday at $120.34 and hitting a new 52-week high of $122.18 on Thursday even as news that the company's biggest and newest 747 model has problems with ice buildup on its engines, manufactured by General Electric (NYSE:GE).
Aviation safety experts theoretically eliminated the problem of airliner engines shutting down from internal ice accumulation years ago, but now engineers at Boeing and GE are working together on a solution that would prevent ice from building up and causing the jet engines to stop functioning while cruising at approximately 7 miles, or 41,000 feet, above the earth's surface, The Wall Street Journal reports.
Boeing has had a surprisingly good year so far, considering the issues it faced with the 787 Dreamliner and a few miscellaneous — though highly public — malfunctions with other aircraft. The company's commercial airplanes segment has remained the backbone of the company. In the most recently reported quarter, that segment pulled in revenue of $24.3 billion in the first half, 60 percent of the total, and earned $2.7 billion from operations.
Commercial aircraft revenue and deliveries both increased 7 percent in the first half of 2013, with earnings from operations increasing 17 percent. Operating margins also increased, from 10.1 percent to 11 percent.
As for Boeing's defense business, Stallard says the "impact of the sequester is likely to remain muted until next year," according to Barron's. But while the shrinking Department of Defense budget is not good news for the Pentagon's second largest defense contractor, revenue from other markets, particularly Latin America, will offset lower government spending in the United States.
Boeing's vice president of international business development for the Americas at the company's defense, space and security unit, Roberto Valla, explained in a Wednesday interview with Bloomberg that Chile, Colombia, Mexico and Peru are key markets that will drive demand. "Those are not the only countries where we see opportunities, but we do see at least in the near term, probably the greatest needs in those four customer communities," he said.
Latin American countries, excluding Brazil, could order as much as much $10 billion worth of space and defense products in the next few years, Valla added.
Follow Meghan on Twitter @MFoley_WSCS
Don't Miss: Boeing's Dreamliner Hits New Problems in India's Skies.