Here's Why BofA May Eliminate This Profitable Banking Feature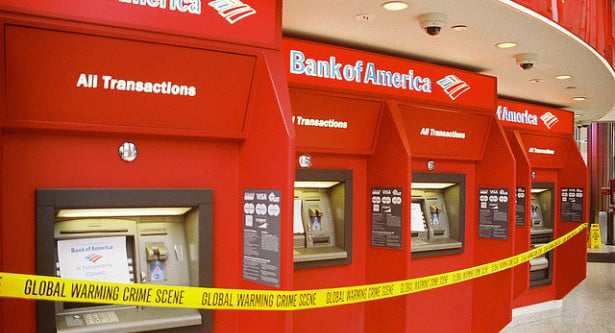 In the wake of the financial crisis, U.S. regulators implemented sweeping new rules that have prompted banks to eliminate free checking accounts to replace revenue lost thanks the tighter restrictions. As part of its own efforts, Bank of America (NYSE:BAC) planned to begin a new checking-account program last year that would have raised fees on millions of customers, but that new program was put on hold so that different types of checking accounts could be tested.
Bank of America is now considering introducing checking accounts that would not permit customers to overdraw their accounts at ATMs or when making an automatic bill payment, a practice that banking customers have become accustomed to using. The bank already prohibits customers from overdrawing their account when making debit card purchases, and sources familiar with the bank's operations told the Journal that the company will likely include the removal of overdraft abilities as option for customers creating new checking accounts.
If that option is put in place, Bank of America will become the first big bank to prohibit overdrafts on checking accounts.
Bank of America's third-quarter financial results show that consumer banking has been a key segment of the financial institution's efforts to piece it business back together after the financial crisis. Profit in its retail banking division, the company's largest unit, jumped 32 percent thanks to strengthening revenue and falling credit costs.
Memories of the meltdown remain alive thanks to the bank's crisis-era acquisitions, mortgage lender Countrywide Financial and retail brokerage Merrill Lynch, both of which were purchased for their ability to sell a wide range of consumer banking products. Bank of America reported its mortgage business lost $1 billion in the third quarter, compared with a loss of $857 million in the year-ago quarter, not to mention the additional $300 million it set aside for mortgage litigation in the last quarter.
Still, Merrill Lynch, which is part of the institution's wealth management division, was a source of a strength, with revenue increasing 11 percent to $1 million from the year-ago quarter.
Excluding a type of financial charge that investors typically ignore, Bank of America reported $2.2 billion in revenue for the third quarter, a modest drop from $22.5 billion in the same period in 2012. Many other large banks experienced a similar decline in their top lines last quarter, a sign that even five years after the financial crisis, they are finding it difficult to expand their businesses.
So when Bank of America released third-quarter results earlier this week, points of interest for investors and analysts alike were where the company generated revenue, especially because home loans still remain a challenging business for United States banks. Furthermore, because the bank has drawn about as much value and extra profit as possible from cutting costs and "releasing reserves" of capital set aside in tougher economic times to cover bad loans, new revenue streams must be tapped.
What investors would like to see is Bank of America earning a more consistent profit from most of its business, including credit cards, Wall Street trading, and lending to corporations. And while analysts do believe Bank of America needs an improvement in the housing market, the institution has begun to reap the benefits of a strengthening retail banking business, evidenced by the more than 1 million credit cards that were issued in the third quarter, the highest number since 2008.
Further evidence is the fact that the unit that does traditional branch bank lending to consumers and smaller companies, which saw a 32 percent increase in net income. "That's the core of Bank of America, and it did do nicely," Edward Jones banking analyst Shannon Stemm told The New York Times.
But changes in the economic and regulatory environment will make capitalizing on that consumer segment a more difficult proposition. In recent months, Americans have shown themselves to be less inclined to take on extra debt, and government agencies are implementing new regulations to make consumer lending more transparent. Regulators including the Consumer Financial Protection Bureau have been particularly critical of overdraft practices because bank policies can be confusing for consumers.
A June report from the CFPB showed that frequent overdraft users accumulate up to $900 in extra fees per year. In fact, Bank of America makes billions of dollars in overdraft fees each year. In the first half of 2013, consumer-banking fees generated $10.3 billion, according to an analysis by Moebs Services, and the majority of those fees came from account overdrafts.
But some analysts say that both banks and consumers would be better served if bank customers did not spend money they do not have. "Consumers are well-served when there are full-functioning transaction accounts that simply don't have overdraft as an option," Tom Feltner, director of financial services for the advocacy group Consumer Federation of America, told The Wall Street Journal.
Follow Meghan on Twitter @MFoley_WSCS
Don't Miss: Morgan Stanley: Make Money by Managing Money.