Here's Why CEOs are Less Confident About 2013
Due to a wide range of issues, chief executive officers across the globe are feeling less confident about their company's growth prospects in the next 12 months, according to a new survey by PricewaterhouseCoppers.
The consulting firm's 16th Annual Global CEO Survey shows that only 36 percent of CEOs worldwide are 'very confident' in growth prospects over the short-term, compared to 40 percent last year and 48 percent in 2011. However, the current reading is still higher than the lows of 31 percent and 21 percent in 2010 and 2009, respectively.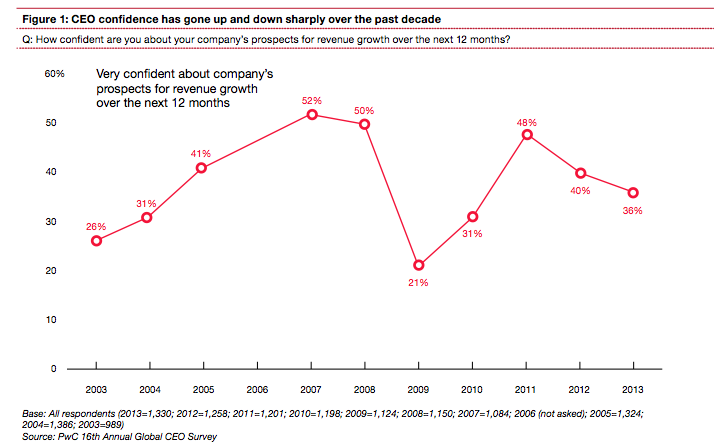 In recent years, the PwC Global CEO Survey has established itself as one of the main media highlights on the opening day of the Annual Meeting of the World Economic Forum in Davos. The survey interviewed more than 1,300 CEOs in 68 countries during the final quarter of 2012.
Longer-term confidence appears to be stronger, with 46 percent of CEOs feeling 'very confident' in growth prospects over the next three years, about the same as last year. Executives in Africa and the Middle East are the most confident at 62 percent and 56 percent, respectively. In North America, 51 percent of CEOs are 'very confident' about long-term growth, almost the same as the 52 percent in Asia. Not surprisingly, Europe has the weakest confidence at only 34 percent.
What about the overall economy…
When considering the general economy, 28 percent of the CEOs expect the global economy to decline further in 2013. Only 18 percent predict economic improvements to take place. A little more than half say the global economy will stay the same. While the outlook is sobering, it is an improvement from last year, when 48 percent of CEOs expected a decline.
Fiscal and political threats are keeping CEOs on their toes. Topping the list for 81 percent of executives around the globe, is the concern over uncertain or volatile economic growth. Government responses to fiscal deficit and debt issues is the second highest area of concern with 71 percent. Over-regulation and capital market volatility came in at 69 percent and 61 percent, respectively. In fact, worry about over-regulation is at its highest level since 2006.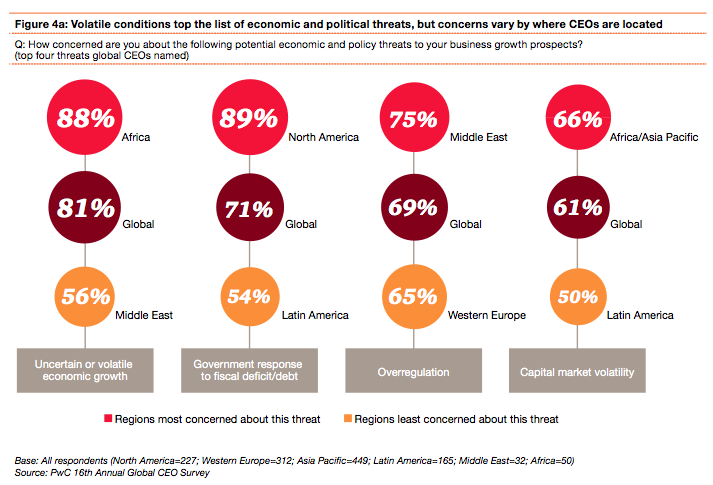 Dennis M. Nally, chairman of PwC International, explains, "CEOs remain cautious about their short term prospects and the outlook for the global economy. However, given the high levels of concern among CEOs about issues – such as over-regulation, government debt, capital market instability – it is no surprise that CEO confidence has declined in the last 12 months. We find CEOs working to deal with the ongoing risks. Strategically, CEOs continue to refine their operations, looking to cut costs without reducing value as they manage through sluggish times. They are seeking growth opportunities organically, avoiding large outlays that could strap resources for the future. Most important, they have a clear focus on customers, collaborating with them more closely than ever on programmes to stimulate demand, loyalty and joint innovation."
Despite the survey's sentiment, here's how the Dow, S&P and Nasdaq have each traded so far in 2013: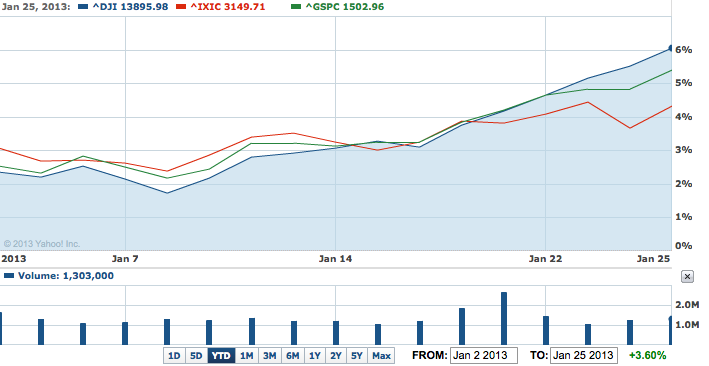 Investor Insight: Are Existing Home Sales Starting to Crack?