Here's Why Fed Nominee Yellen Is So Swamped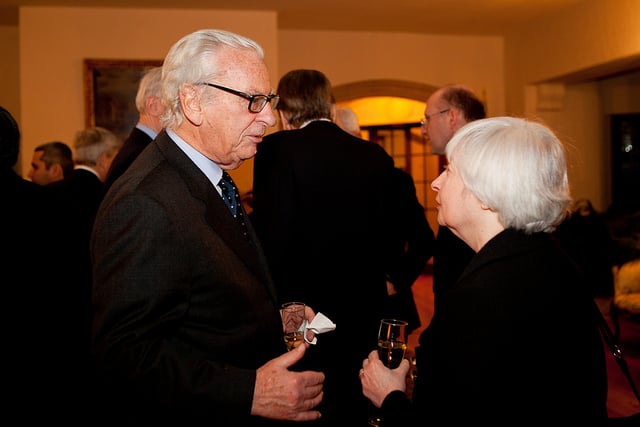 Janet Yellen's schedule has been flooded with appointments as members of the Senate Banking Committee begin to set up meetings. Yellen's nomination for the position of chair of the Federal Reserve was announced on October 9 by President Barack Obama. She will be replacing Ben Bernanke in the position — his term will be finished January 31.
According to The Wall Street Journal, it is customary for a nominee to meet with senators before the necessary Senate confirmation hearing can take place. This allows them an opportunity for private conversation with the nominee. At present, Yellen's confirmation has not been scheduled, but it would seem these meetings are now being organized.
Senators already scheduled to meet include Sens. Richard Shelby (R-Ala.), Joe Manchin (D-W.Va.), Jon Tester (D-Mont.), Jeff Merkley (D-Ore.), Dean Heller (R-Nev.), and Sherrod Brown (D-Ohio). The offices of both Sen. Bob Corker (R-Tenn.) and Sen. Heidi Heitkamp (D-N.D.) say they are still working on setting up appointments, but have plans to do so.
According to Reuters, conservative Senator Ted Cruz (R-Texas) is keeping an "open mind" about Yellen's nomination. "I have not had an opportunity to visit with Ms. Yellen, so I will keep an open mind and listen to what she has to say and to the arguments for her confirmation," said Cruz — though he did voice concerns on the Fed's quantitative easing plans, saying that he believes it could "lead to long-term inflation that undermines the savings and investments of every American."
"I don't know how many Republican votes she'll get, but I find it hard to believe that for the first time in history that Republicans would filibuster a Fed nominee," said Sen. Chuck Schumer (D-N.Y.), according to The Wall Street Journal, which predicts that she will have the votes of all 12 Democrats on the banking committee, and with a two-seat advantage to Democrats on the committee, they will likely give her approval.
Don't Miss: 6 States Hit the Hardest By Government Shutdown.