Here's Why Gold and Silver Were Flat While Endeavour Silver Climbed
On Tuesday, gold (NYSE:GLD) futures for December delivery fell $9.80 to settle at $1,661 per ounce, while silver (NYSE:SLV) futures edged slightly higher to settle at $31.99. The markets remained mostly flat due to the uncertainties in Europe.
Slovakia's Freedom and Solidarity party, a junior member of the ruling coalition, said it will abstain from today's vote to expand the eurozone's EFSF 440 billion ($600 billion) bailout fund. The bill will most likely not pass and the government could fall. Political turmoil has ensued; however, the bill could be approved from opposition votes in a repeat ballot. The delayed vote caused the US dollar (NYSE:UUP) to strengthen against the euro.

POPULAR: The Eurozone Lights a Fire Under Gold and Silver.
Gold miners (NYSE:GDX) such as Barrick Gold (NYSE:ABX) and AngloGold (NYSE:AU) traded nearly 1% lower in afternoon trading. However, Yamana Gold (NYSE:AUY) traded higher as investors may be finding some refuge in its 1.30% dividend.  Silver miners (NYSE:SIL) such Endeavour Silver (NYSE:EXK) traded more than 2% higher during the trading day.  Early Tuesday, Endeavour Silver announced positive third quarter results. Revenue for the company increased 93% as silver production increased 8%.  Endeavour also increased its gold production by 7% for the third quarter.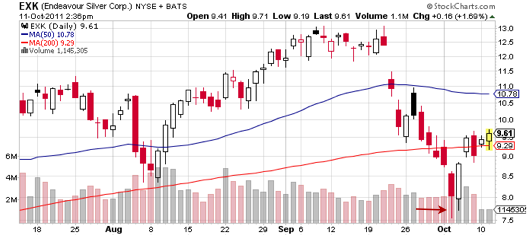 As the chart above shows, silver miners like Endeavour have seen declines since the end of September.  Investors should realize that pull backs in precious metals do occur, but these declines offer great buying opportunities.  In our September 26 Gold and Silver Premium Newsletter we warned, "Shares of Endeavour look poised to test $7.50-$8.00."  In the first week of October, this is precisely where shares found support.  After testing our support level, shares rebounded more than 20% to $9.60.  If you would like to receive more professional analysis on equity miners and other precious metal investments, we invite you to try our premium service free for 14 days.
POPULAR: What Does the Unemployment Picture Mean for Precious Metals?>>