Here's Why It's Do-or-Die Time for J.C. Penney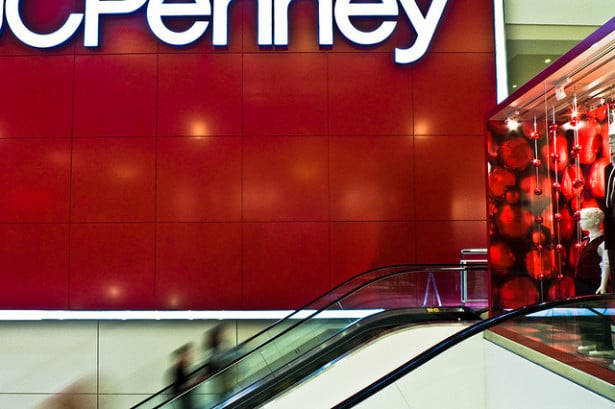 The question Gilford Securities analyst Bernard Sosnick wants answered is whether J.C. Penney (NYSE:JCP) can keep improving its key metrics. Gilford "held to a [buy] rating despite the turmoil of the last few months, believing that [the fourth quarter of 2013] is the key to JCP's fate," he wrote in a research note acquired by Barron's.
"We anticipated months would elapse following Mike Ullman's return before positive results would be evident, but we were disappointed not to see better sales than were reported for October. Based on what we have just seen, we think November will tell a different story," Sosnick concluded.
He theorized that J.C. Penney will achieve between a 10 and 15 percent increase in same-store sales in the fourth quarter, and if that prediction holds true, shares could rally. Given the promotions the retailer circulated for the Veterans Day weekend, he suggested that the company had high expectations for traffic and sales. According to Gilford's "limited" store visits, the firm believes that J.C. Penney achieved its sales goal.
If sales build, which seems reasonable to Sosnick, the clearance backlog will diminish and the retailer's gross margin will improve. "We are unable to flesh out a firm earnings estimate, but we are optimistic again," the analyst said, via Barron's. Of course, given the rate that the company has been burning cash as of late, the return to growth must be rapid.
That is why it is now do-or-die time for J.C. Penney: Even if the retailer maintains October's sales growth, it will need to expand revenue by 20 to 30 percent from current levels while  increasing gross margin to the company's 37 percent target in order to break even.
Suffering from the side effects of an anemic economic recovery and the negative impact of the rebranding campaign launched by former CEO Ron Johnson, shares of J.C. Penney slid 66.77 percent this year before hitting a 52-week low of $6.24 on October 22.
After bottoming out at that level, investors have cautiously bid shares up more than 30 percent on the hope that October's improving same-store sales were an early precursor to growth in profit and revenues.
Early last month, investors were bidding shares of J.C. Penney to new lows, worried that the company had little future. Of particular concerns were sales and cash burn. IRatings firm Fitch had depicted a troubling future for the company's finances, projecting a free cash flow shortfall in 2014 that "will require additional external funding," even though more than $3 billion worth of liquidity has been injected so far this year.
As shares of J.C. Penney's beleaguered stock plummeted in September and October, the word often following any mention of the century-old department store chain was bankruptcy, or at least a whisper of it. Bankruptcy talk began at the end of September, after Goldman Sachs analysts downgraded the company's shares based on worries of a growing liquidity problem.
Emerging data indicated that the company had posted worse-than-expected sales during the back-to-school shopping season. That revelation, plus rumors of the company's need for more financing, ran contrary to the nascent turnaround narrative that investors had begun to believe after second-quarter results.
Now, a week away from the release of J.C. Penney's third-quarter earnings report, belief in a turnaround has once again emerged.
Optimism has sprouted from several sources. In particular, a company update on its continued turnaround progress alerted investors to the fact that same-store sales had finally entered positive territory. A 0.9 increase may seem like a nearly negligible increase in same-store sales for most retailers, but J.C. Penny is not most retailers: In 2012, revenue plunged 25 percent, customer traffic dropped 13 percent, and the company's stock price fell 50 percent.
That 0.9 percent growth was the retailer's first month-over-month increase in almost two years. October's rise in same-store sales — a key measure of retailer strength — was a welcome life raft and a sign that the change in strategic direction employed by retailer's management had begun to bear fruit. To J.C. Penney, it was evidence that the company had made "meaningful progress in its turnaround" and "significant progress in addressing the challenges it faces."
Last quarter's earnings report showed that the key metric dropped just 11.9 percent compared to the first quarter's 16.6 percent decline. That J.C. Penney rival Macy's (NYSE:M) reported strong results this quarter added to analyst confidence. On Wednesday, Macy's reported earnings per share of 47 cents, a 31 percent jump from a year ago, which beat analyst estimate of 39 cents.
For Macy's, it was the fifteenth consecutive quarter of earnings per share growth. "We were able to achieve a very successful third quarter of 2013, despite the tepid economic climate," Macy's CEO Terry J. Lundgren said in the company's earnings press release, which also included an upbeat outlook for the fourth quarter and the key holiday shopping season.
Macy's results bode well for the retail sector as a whole: It suggests that consumer spending has gathered some momentum despite the tepid economy. Comparatively, for Macy's, the previous quarter's softer-than-anticipated sales performance reflected "consumers' continuing uncertainty about spending on discretionary items in the current economic environment."
That observation held true for much of the U.S. retail industry. In the second quarter, J.C. Penney's quarterly loss widened from the year-ago period, and its revenue declined for the ninth consecutive quarter, proof that the tough economy had taken a toll and that the retailer was still shaking off the vestiges of an ill-fated makeover implemented by Johnson.
Follow Meghan on Twitter @MFoley_WSCS
Don't Miss: Macy's Queues Up for a Strong Holiday Quarter.