Here's Why Most Americans Will Work Past Retirement Age
If one figure can truly sum up the ability of Americans to retire, it is this one: three out of four adult workers in the United States believe they will continue working past retirement age. Two years ago, eight out of ten employed Americans expected to labor into their upper 60s and beyond.
While this change reflects improvements in personal finances over the past few years, it is also becoming increasingly clear that retirement in America has fundamentally changed.
When workers of all ages and income brackets are taken into account, data collected by a Gallup poll in April 2013 provides a surprising insight: more workers — 40 percent — said they will continue working by choice than those that said they will continue to work because they will be forced to do so by financial necessity, which was 35 percent. However, because these percentages average data from a varied population, the numbers do not create a view of the retirement prospects of all Americans.
Most notably, the number of workers planning to work past retirement because they must depend significantly on household income. Middle and lower-income workers are much more likely than those earning higher wages to be unable to afford to retire. Of those workers earning less than $30,000 per year, 32 percent said they would continue working by choice, while 43 percent said they would continue working out of necessity. Only 15 percent said they would stop working Comparatively, among workers earning between $30,000 and $74,000, 35 percent expect to continue working by choice and 39 percent expect to continue working because of poor finances. Among workers earning $75,000 or more, 49 percent will work by choice and only 26 percent will work because they have to.
This data confirms other recent retirement findings. Gallup discovered that middle-income and, to an even greater degree, low-income workers were much more likely than upper-income Americans to expect part-time work will be a major source of income in retirement.
Gallup also broke down the numbers by age brackets: 18 to 34 years, 35 to 54 years, and 55 and over. Of those respondents in the youngest age bracket, most said they would stop working by choice. In the middle group, the numbers were fairly balanced, while in the oldest age bracket, most said they would stop working by choice as well.
Still, a growing body of research suggests that retirement — once depicted in halcyon terms — has undergone key changes. American workers should prepare to work longer than previous generations, which could rely on the stability of Social Security, and did not experience the same setbacks in their ability to save as the financial crisis brought.
According to the Employee Benefit Research Institute's latest survey on retirement confidence, the majority of workers have saved for their golden years, but the piggybank is quite slim. Excluding the value of a primary home and any defined benefit plans, 57 percent of households say they have less than $25,000 in savings and investments, while twenty-eight percent say they have less than $1,000. Furthermore, the Center for Retirement Research at Boston College has warned that 53 percent of American households are at risk of not having saved enough to maintain their living standards in retirement.
"'Retirement' once connoted a lifestyle free from the demands of work, but also reliance on personal savings and Social Security," as Gallup noted in the "bottom line" portion of its April survey results. Now that vision is changing, and will continue to do so if Americans continue to work well beyond retirement age as they expect to do. But, according to Gallup, that may have social and health benefits for Americans, if "staying in the workforce keeps seniors more physically and mentally active than they would be otherwise." It would clearly help them financially, especially as the alternative will likely be dependence on inadequate savings and an uncertain Social Security system.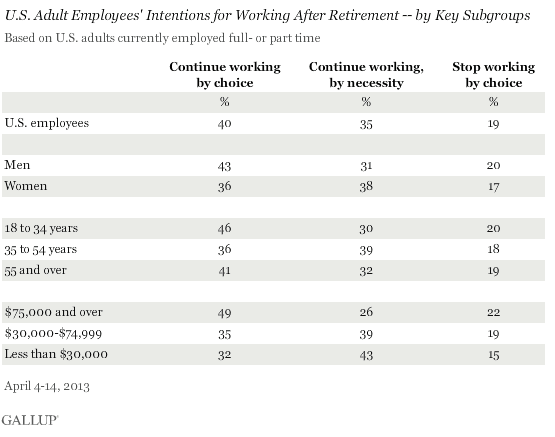 Here's how the market traded on Friday: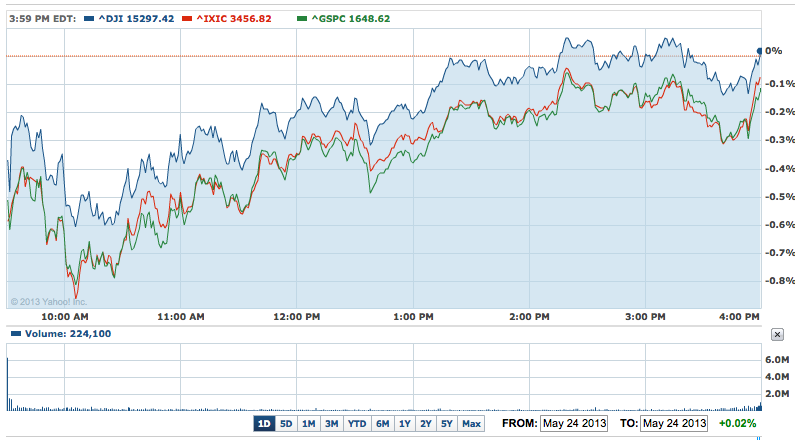 Follow Meghan on Twitter @MFoley_WSCS
Don't Miss: 8 Worst States for the Unemployed.