Here's Why Obamacare Is Banking on Latinos to Cross the Finish Line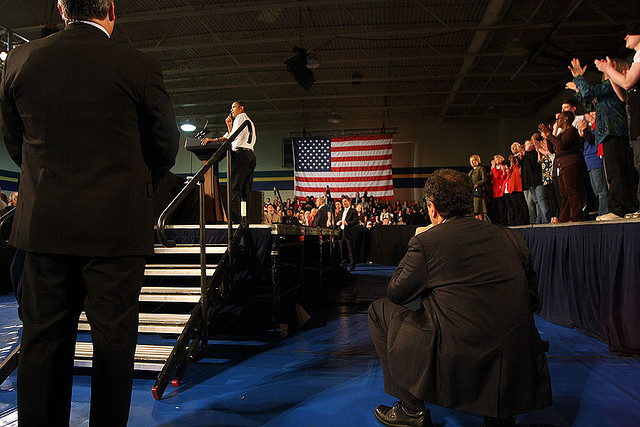 Young people are receiving a great deal of attention from the Obama administration as their participation in the Affordable Care Act's online insurance marketplaces is essential for the success of the healthcare reform as a whole. But they are not the only demographic that government officials are targeting as part of an attempt to educate the uninsured and prompt them to apply for private insurance plans on the exchanges.
As part of their efforts, the administration took to the Spanish-language airwaves last Wednesday to extol the virtues of Obamacare. Department of Health and Human Services Secretary Kathleen Sebelius and Director of Public Health Mayra Alvarez appeared on cable television channels Telemundo and Univision to encourage viewers to enroll in the insurance marketplaces that will open on October 1. The newly revamped CuidadoDeSalud.gov, the Spanish version of HealthCare.gov, also got mention.
President Barack Obama owes his 2012 reelection in part to Hispanics — of whom 71 percent voted for him in the last election — but the success of the healthcare reform he championed also rests in their hands, according to Kaiser Health News.
To keep the insurance plans offered on the exchanges affordable, young people must sign up. As this demographic is cheap to insure, being generally healthy and requiring fewer medical services, their insurance premiums subsidize the big bills for the relatively small number of sick or elderly patients. According to estimates made by the Obama administration, approximately 7 million people will sign up for coverage via the exchanges in 2014 and between 2.6 million and 2.7 million of those enrollees need to be young, cheap-to-insure, Americans for the system to work.
For this very reason, Hispanics are a key target. The median age of an Hispanic in the United States is 27.6, compared with 42.3 years old for caucasians. Furthermore, Hispanics account for 17 percent of the U.S. population, but make up a third of the uninsured.
Critics of Obamacare have painted it as free government handout for minorities. After last November's election, Republican candidate Mitt Romney chalked his loss up to the fact that Obama had given "gifts" to special interest groups like Hispanics. "You can imagine for somebody making $25,000 or $30,000 or $35,000 a year, being told you're now going to get free health care, particularly if you don't have it, getting free health care worth, what, $10,000 per family, in perpetuity, I mean, this is huge," he said. "Likewise with Hispanic voters, free health care was a big plus."
It is true that some very poor Hispanics will get free healthcare under the Affordable Care Act because, thanks to the legislation, Medicaid will be expanding in some states. Yet, it is also true that very poor Americans will also be receiving coverage. Even more to the point, Americans as a group will receive a gift of sorts if Hispanics enroll in the online marketplaces because they will ensure, in part, that the exchanges function as they were intended. If the Obamacare administration's public relations campaign succeeds at convincing young people in general, and young Hispanics in particular, to purchase private insurance, they could end up subsidizing healthcare for many other people.
Don't Miss: Is Contraception the New Obamacare Battlefield?
 Follow Meghan on Twitter @MFoley_WSCS