Here's Why Online Broker Shares Are Struggling
On Tuesday, TD Ameritrade (NASDAQ:AMTD) reported its fourth quarter earnings.  Net income came in at $163.7 million (29 cents per share), compared to $114 million (20 cents per share) in the same quarter last year.  Many investors feared that the recent high market volatility (NYSE:VXX) would scare away investors, but TD Ameritrade saw an increase in client activity.  The online brokerage reported that average client trades per day increased 31% to 415,739.  Total trades hit 26.6 million for the quarter, compared to 20.3 million last year.
As the chart below shows, it has been a rough year for online brokers despite positive earnings.  TD Ameritrade, E*TRADE (NASDAQ:ETFC), and Charles Schwab (NYSE:SCHW) have all underperformed the S&P 500 (NYSE:SPY).  The worst performer has been E*TRADE, with shares being down 36% year-to-date, while TD Ameritrade is the best performer by being down 17%.
Investing Insights: Weak Consumer Confidence Hasn't Shaken These 6 Stocks.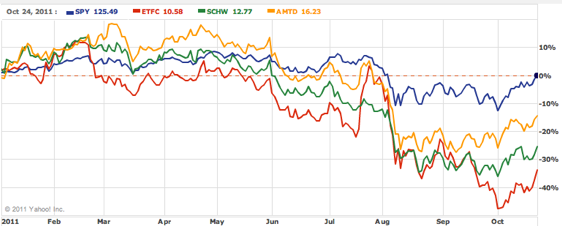 Despite year-to-date returns, online brokers have seen an uptick recently after positive earnings.  Last week, E*TRADE beat expectations for the third quarter.  Net income for the investment brokerage rose to $70.7 million (24 cents per share), compared to $8.4 million (3 cents per share) in the same quarter a year earlier.  E*TRADE beat the mean analyst estimates of 19 cents per share.  "We are pleased with our third quarter results which – amid significant market volatility – demonstrated strength in our brokerage business, continued improvement in our loan portfolio and measurable progress against our strategic initiatives," said Steven Freiberg, Chief Executive Officer of E*TRADE Financial Corporation. "The retail investor was highly engaged, particularly in early August when we successfully managed periods of record trade, call, online chat and login volumes."
Investor Insight: Why is Oil Having a Field Day?
Although shares of Charles Schwab are down 27% year-to-date, shares have increased 6% in the last month.  Last week, the company reported a 77.4% rise in net income from the same quarter last year.  President and CEO Walt Bettinger said, "Our unique combination of full-service, high-value brokerage continues to perform well and deliver growth despite a difficult economic environment. Although the environment weakened further during the third quarter, our clients stayed with their long-term investing plans.  We ended September with a total of 2.4million accounts at Schwab either enrolled in retail advisory offerings or under the guidance of an independent advisor, an increase of 153,000 over September 2010."
Investors need to remain cautious when it comes to online brokers.  The average estimate for the next quarter has moved down from 21 cents per share to 18 cents for Charles Schwab.  E*TRADE has also seen a decrease in estimates from 19 cents to 17 cents per share, while Ameritrade estimates have decreased from 29 cents to 27 cents per share.
Super Hot Feature: 5 Wall Street Crisis Films to Watch Now.