Here's Why Panera Canned Its Pay-What-You-Can Initiative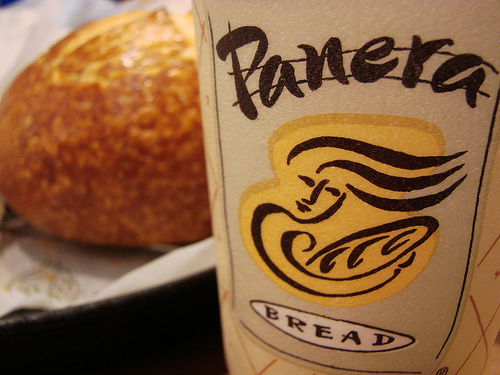 Panera Bread Co. (NASDAQ:PNRA) has shown its commitment to paying it forward, but due to a drop in marketing and a possible flaw in program placement, the baking company announced it will need to scale back its charitable efforts, at least for now.
Consumers everywhere praised the beloved breadmaker when it announced its Meal of Shared Responsibility late in March. The program is part of Panera's pay-what-you-can experiment, started three years ago to test whether people would be willing to pay full price — or more — when there were no set prices on an item. The idea was that those in need could pay less or nothing at all, while those who could pay above the suggested amount would offset the difference.
Since the end of March, Panera has offered a single menu item, Turkey Chili in a Bread Bowl, at its 48 St. Louis-area restaurants. While the suggested retail price was $5.89, customers ultimately were given the responsibility of setting their own price.
At first, the experiment saw great success. People were impressed with Panera's charitable efforts and showed their support by — on average — paying above the retail price. But once the initial marketing surge died off, the company found that awareness about the meal also simmered: Less people stopped in to request and pay for it. While the payments started off above retail value, once marketing was scaled back, the overall average was around 75 percent of retail value.
The other problem with the Meal of Shared Responsibility was its placement. Located in suburban, middle class, and affluent areas, less of the target demographic was participating in the program.
So Panera has now decided to pull and rework the program with the promise that it will return in the winter. When Meal of Shared Responsibility relaunches, the company will focus on the initiative's placement in select markets and how long it wants to offer the program. This time around, the shared meal will probably be offered for a limited time, likely for four to six weeks.
Panera has long been recognized for its commitment to the needy. Operation Dough-Nation currently donates tens of millions of dollars in unsold baked goods, and in 2010, an entire cafe in the St. Louis suburb of Clayton, Missouri, was opened for the pay-what-you-can format. And now, locations in Dearborn, Michigan; Portland, Oregon; Chicago; and Boston are available. At those nonprofit cafes, every menu item is paid for by donations.