Here's Why Shares of FedEx are Exploding Higher
Shipping giant FedEx (NYSE:FDX) is giving investors reason to cheer. The supply chain logistics operator's CEO Frederick W. Smith said, "Continued growth in the global economy is driving solid revenue gains in our transportation businesses."
Earnings: Decreased 3.4% to $231 million ($0.73 a share) from $239 million ($0.76 a share) a year ago.
Revenues: Increased 11% to $9.66 billion. A very nice statistic for the global economic recovery.
Actual versus Wall Street Expectations: FedEx was expected to earn $0.74 a share.
Notable Stats: Cost rises were primarily driven by higher fuel prices and the reinstatement of merit salary increases, increases in pension and medical costs, higher aircraft maintenance expenses and the full reinstatement of 401(NYSE:K) company-matching contributions also impacted earnings. Also, FedEx Ground segment had record third quarter results.
Did You Hear That? FedEx CEO Frederick W. Smith said, "We expect strong demand for our services to boost our financial performance in our fourth quarter."
Outlook: FedEx projects earnings to be $1.66 to $1.83 per diluted share in the fourth quarter and an adjusted $4.83 to $5.00 per diluted share for fiscal 2011. The company's forecast assumes the current market outlook for fuel prices and continued moderate growth in the global economy. Earnings could be affected by the impact of the ongoing political turmoil in the Middle East and North Africa on fuel prices and the economy. Also, the near-term impact of the earthquake and tsunami in Japan on operational costs, shipping patterns and the global economy is currently uncertain.
The annual guidance excludes FedEx Freight combination costs and a second quarter legal reserve. Including costs from the FedEx Freight combination and the legal reserve, earnings are expected to be $4.49 to $4.66 per diluted share for fiscal 2011. The company reported earnings of $1.33 per diluted share in last year's fourth quarter. The capital spending forecast for fiscal 2011 remains $3.5 billion.
Commentary: Shares of FDX are up over 5%. FDX has nice support below with a converging 50 and 200 DMA.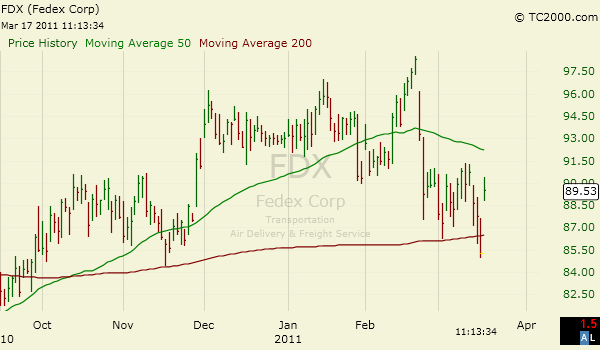 Profit from FedEx: Research FedEx shares with our new high tech research tools >>
Disclosure: No positions in the stocks mentioned.