Here's Why Shares of World Wrestling Entertainment are Getting Dropkicked Now
Shares of World Wrestling Entertainment (NYSE:WWE) are taking a rotten fall from the turnbuckles. WWE is down over 8% on a pre-earnings warning the company expects to earn $0.08 to $0.10 per share this quarter as opposed to analysts' expectations for $0.16 a share.
In addition to Wall Street hating negative earnings pre-announcements, WWE did not give a reason for the bad news. And if there's one thing Wall Street hates more than negative earnings, it's the unknown.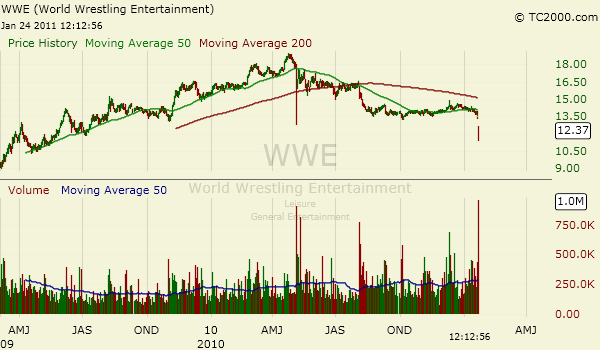 We'll keep tabs on future developments at WWE. The company reports fourth quarter earnings on February 10th.
Don't Miss: Is Netflix About to Crash? >>
Improve Your 2011 Financial Health: Join the winning team of stock pickers with Wall St. Cheat Sheet's acclaimed premium newsletter >>