Here's Why States Want to Avoid the Word "Obamacare"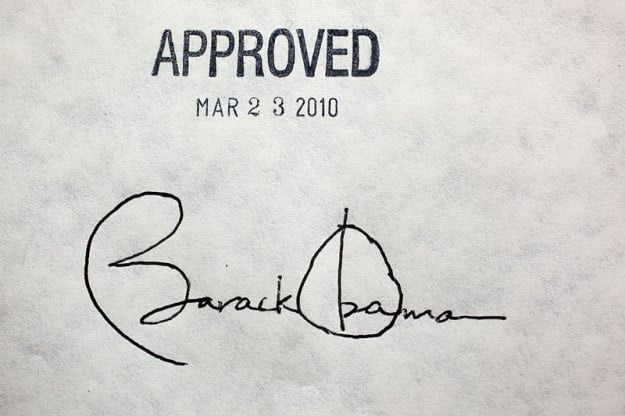 Researchers have found that the monikers used casually to refer to the Affordable Care Act influence the public's perception of the health care reform despite the fact that Obamacare, the Affordable Care Act, and the health care reform law can be used interchangeably. The Kaiser Family Foundation's June 2013 health tracking poll found that a significant percentage of respondents gave slightly different opinions about the law depending on which label was used, especially among Democrats. Of those surveyed, 35 percent said they held a favorable opinion about the "health reform law" while 42 percent said the same about "Obamacare," a difference of 7 percentage points. In addition, 43 percent said they held an unfavorable opinion about the "health reform law" and 47 percent said they were not in favor of "Obamacare."
This phenomenon was on full display at the Minnesota State Fair, where state employees were drumming up support for and educating residents about the state's Obamacare insurance exchanged known as MNsure, reported The Wall Street Journal. They handed out flyers that contained a picture of Paul Bunyan and his blue ox Babe, both prominent figures in Minnesota folklore; the slogan "land of 10,000 reasons to get health insurance," a rip on the state's nickname; and, a notable absence of the word Obamacare. These promotional materials seem to indicate that the state was looking to frame the exchanges as a home-grown initiative rather than the result of a still widely unpopular law.
Polls don't only show that the American public is doubtful about the health care reform; Kaiser's August health tracking poll also found that roughly four in ten Americans think that either the Affordable Care Act has been repealed by Congress or overturned by the Supreme Court, or say they do not know whether it remains law or not. With such a large percentage of Americans unsure about the legal status of the reform, it follows that slightly more than half of the American public say they do not have enough information about the law to understand how it will impact them and their family. This percentage has remained largely unchanged since 2010.
It is important for states — especially those designing their own insurance marketplaces, like Minnesota —  and Washington D.C., which is also fully running its own marketplace, to convince their residents to enroll in the individual exchanges so that they operate as the law originally intended. Lack of understanding or outright objection is seen as a major problem for the success of Obamacare's main objective: bringing affordable health care to the currently uninsured.
"If you continue to see that very low level of awareness even as you get toward October, that's a sign that we may not be getting the enrollment, and the exchanges are going to be at a bit of risk from that," Sara Collins, the co-author of a recent Commonwealth Fund report on Obamacare understanding, told CNBC. "You want a broad, healthy diverse risk pool in the marketplaces. It's really important that young, healthy people come into the market," said Collins, noting the danger of premium hikes from having a disproportionate number of older, sicker people in insurance plans.
While Minnesota's public relations and outreach campaign is not aimed primarily at changing public opinion about Obamacare, those in charge of the effort believe the humorous and Obamacare-less marketing will help draw in customers. "We have to grab people's attention," April Todd-Malmlov, MNsure's executive director, told the WSJ. She said she told the advertising agency to design "out of the ordinary" advertisements. The $9 million advertising campaign will set up billboards and run advertisements beginning next week that feature Paul Bunyan having accidents while clearing snow off a rooftop or waterskiing — accidents that would result in very high medical bills.
A similar strategy has been employed in Vermont and in Oregon; Vermont will use the slogan,"For Vermonters, By Vermonters" in its advertising campaign, while Oregon's television and radio ads feature local musicians performing the song "Long Live Oregonians" to promote the state's Cover Oregon exchange.
Minnesota's marketing scheme was also designed to address another problem; Kaiser's August survey also showed that a large proportion of respondents, 19 percent, said they got most of their information about the Affordable Care Act from comedy programs like The Daily Show, while just 14 percent said they got most of their information from state agencies.
Follow Meghan on Twitter @MFoley_WSCS
Here's how the major U.S. indexes traded on Thursday:

Like us on Facebook to get the latest from Wall St. Cheat Sheet right in your News Feed.