Here's Why the American Consumer Is Less Engaged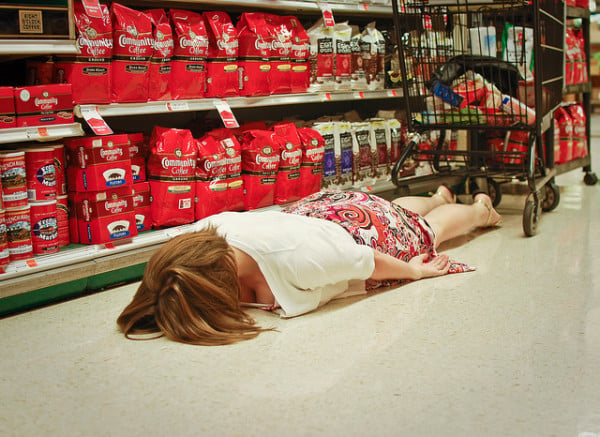 Cheaper borrowing costs, increased household wealth backed by rising home prices and stock market returns, and an improving job market have done much to sustain demand for big-ticket purchases like motor vehicles.
But retail sales figures released by the Department of Commerce on Monday showed consumer spending, which accounts for approximately 70 percent of the United States economy, may take some time to accelerate as Americans remain frugal to rebuild savings. While U.S. consumers spent more on gasoline and cars in June, they had little appetite for other goods, a problem because consumer spending has been the foundation for the economic recovery thus far.
Retail sales rose far less than expected, increasing 0.4 percent last month to a seasonally adjusted $422.79 billion. Economists expected a 0.8 percent jump to follow May's 0.6 percent increase.
"The consumer was less engaged in the second quarter," Ameriprise Financial senior economist Russell Price told Bloomberg. "The numbers are disappointing in comparison to expectations but the overall picture is still encouraging" given job growth and improved household balance sheets, he said.
Still, economists surveyed by Bloomberg earlier in July believe household spending will pick up, and the economy is expected to expand at a 2.3 percent annualized pace in the third quarter after slowing to a projected 1.6 percent rate in the April through June period.
As evidence that Americans are keeping purchases constrained to their immediate needs, receipts at restaurants and bars dropped 1.2 percent in June, the biggest decline since February 2008. In addition, sales fell 2.2 percent at building materials outlets, the most since May 2012, while department store sales decreased 1 percent. However, eight of the 13 major sectors tracked by the Commerce Department showed increases last month, led by a 1.5 percent gain in automobile sales.
Automobile sales are rising as Americans replace older vehicles; cars and light vehicles sold at a 15.89 million annual rate in June, the fastest pace since November 2007, according to data from Ward's Automotive Group. Low borrowing costs and increasing consumer wealth helped make these purchases possible and should continue to support spending in the near future.
Excluding automobiles and gasoline — which rose as high as $3.63 in early June, pushing service-station sales up 0.7 percent for the month — retail sales actually fell 0.1 percent. Purchases excluding cars, gasoline, and building materials, which render the figures used to calculate gross domestic product, rose just 0.1 percent in June after rising 0.2 percent in May.
For primarily wealthier Americans, household wealth has been boosted by a rally in the stock market and increasing property values. The rise in home prices in the 12 months through April was the greatest increase in seven years, according to the Standard & Poor's/Case-Shiller index of property values, while the S&P's 50 Index hit a record high last week.
"Economic indicators continue to improve," Ford's senior U.S. economist Jenny Lin said on a July 2 sales call, according to Bloomberg. The "consumer spending growth pace is slowly picking up."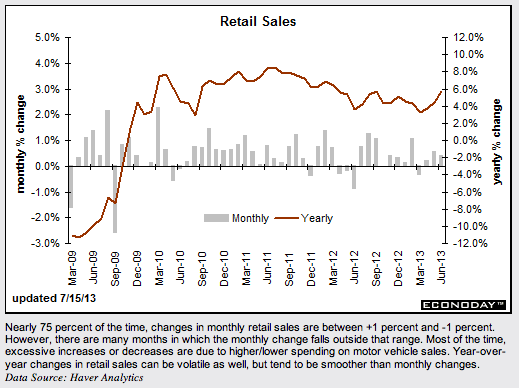 Follow Meghan on Twitter @MFoley_WSCS