Here's Why the Market's Future Looks Stormy
After shaking off poor spending and income reports, the major U.S. stock market indexes traded mostly higher for the last day of May. However, a bout of heavy selling hit the tape just before 3:30 p.m. At stock market close the Dow Jones Industrial Average (NYSEARCA:DIA) had fallen 208 points to lose 1.36 percent, the S&P 500 (NYSEARCA:SPY) dropped 1.43 percent, the Nasdaq 100 (NYSEARCA:QQQ) declined 1 percent, and the Russell 2000 (NYSEARCA:IWM) closed the day with a loss of 1.04 percent.
But May was still positive for the major market indexes as the Dow Jones Industrial Average added 1.9 percent, the S&P 500 gained 2.1 percent, and the Nasdaq was up 3.7 percent.
On My ETF Radar
In the chart of the S&P 500 below, we can see how the market traded sharply lower in the closing minutes of the trading day. Markets were apparently spooked by the ongoing rise in interest rates and reports of a "Hindenburg Omen" forming. This was the second Hindenburg sighting within the last six weeks, with the first one coming on April 15 and the current one on May 29.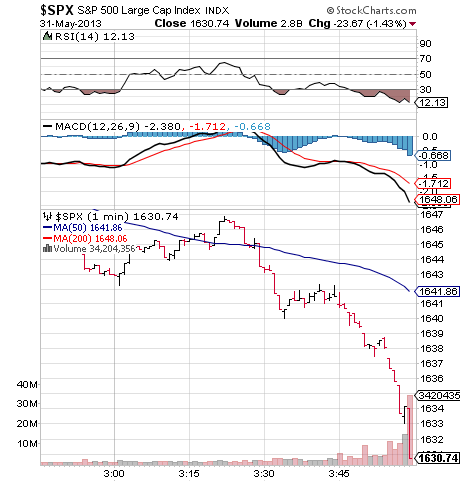 Also troubling markets have been recent comments by Fed Chairman Ben Bernanke regarding the potential tapering of the Fed's quantitative easing program, the growing disconnect between economic fundamentals and market action, the divergences between stocks, bonds and commodities like copper lumber and gold, and the recent volatility in Japanese financial markets.
A longer term view of the stock market shows that the S&P 500 has now reached significant support and that further declines could open the door for yet lower prices ahead.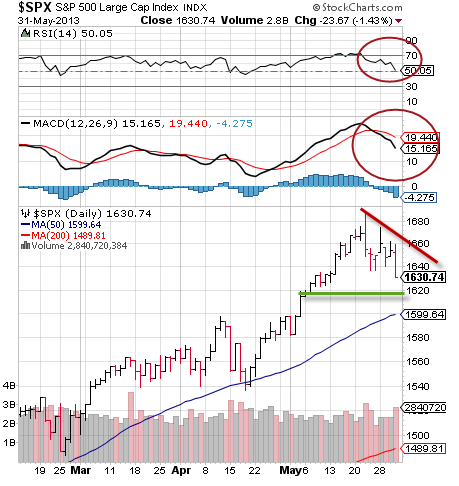 In this longer range view of the S&P 500, we can see how relative strength has fallen from overbought levels, MACD is on a "sell" signal and the interim trend is down after recent highs were reached. The next strong support is at 1,620-1,630, and a decline below that point would set the stage for a fall to the 1,580 region. A broader decline could be expected to take the index down to the 1,560 level, which is a major area of support and the Fibonacci 62 percent retracement level.
Finally, in a little reported event, on Wednesday, Moody's downgraded Alcoa (NYSE:AA) to junk status. Alcoa's credit is now Ba1 with a stable outlook, which is significant because Alcoa is a member of the Dow Jones Industrial Average and widely seen as an economic bellwether in its position as a major global aluminum supplier.
A slowdown in demand for aluminum is viewed as a precursor for slowing economic activity, much like copper and lumber, and so weakness here confirms other indications of a slowing global economy. Alcoa typically kicks off earnings season and so its next report in early July could be interesting and will be carefully scrutinized for signs of weakness in the macro economy. Also, recession in Europe and a dramatically slowing Chinese economy are significant factors, while rising unemployment due to sequestration cuts and a downgrade in consumer headwinds will add significant drag to the U.S. economy.
For the week, economic news was mixed as the Case/Shiller Home Price Index showed a strong updraft in housing prices with a gain of 10.9 percent year-over-year. Three other closely watched economic reports also posted positive numbers with consumer confidence and sentiment rising in May and the Chicago PMI registering 58.7. Bad news came from pending home sales, which missed expectations, and consumer spending and income, which were both weak and below expectations and reflected a consumer pulling back on spending while incomes remain flat.
Initial jobless claims spiked higher on Thursday to 354,000 on expectations of 341,000 and the revised GDP report showed the U.S. economy limping along at 2.4 percent, well below normal recoveries and below expectations for Q1.
This week brings a raft of important economic reports:
Monday: Markit PMI, Construction spending, ISM, motor vehicle sales
Wednesday: ADP Private Employment, ISM services, Fed Beige book, factory orders
Thursday: weekly jobless claims
Friday: May Non Farm Payrolls, May Unemployment
More action will take place with an interest rate announcement from the European Central Bank, and investors will closely be watching the ongoing volatility in Japan for clues that similar action could spread to U.S. financial markets. Japan's bond market is the second largest in the world to the United States' and so upheaval there could present potential complications for the U.S. market.
Finally, the biggest recent news is the sharp spike in interest rates which could be a significant game changer for the U.S. stock market and economy.
The net outcome of the recent rate hike in Treasuries (NYSEARCA:IEF) is that the 10-Year yield last week came even to the S&P 500 dividend yield. This decline in yield premium in the S&P 500 could put a huge damper on the recent stock market rally and the so called "Great Rotation" from bonds to stocks as investors might now start looking more to the bond market than the stock market for yield since the bond market is widely viewed as a less volatile and lower risk environment.
Overall, this leaves investors in a bad place with growing potential risks in the stock and bond markets. On Friday, both stocks and bond prices declined, which is not the typical action in which stock prices and bond prices move inversely to each other. If stock prices and bond prices (NYSEARCA:IEF) start going down together, this potentially sets up an environment wherein a "diversified" portfolio of stocks and bonds could move up or down in tandem.
The biggest risk here is that the Fed easy money policy has created three simultaneous bubbles in stocks, bonds and real estate and that all three could deflate concurrently if/when the easy money is pulled away. Any hint that the Fed is losing control of the interest rate environment is likely to lead to extreme volatility and the potential for significant problems for stocks, bonds and real estate.
Bottom line: The U.S. markets have been technically overbought, unhinged from economic reality, and in an unsustainable rally since mid-April. Recent technical action appears to confirm at least an interim swing top, and macro economic conditions, including rising interest rates and falling bond prices, point to the potential for an increasingly high risk environment ahead. 
John Nyaradi is the author of The ETF Investing Premium Newsletter.
Don't Miss: 7 Entry Level Convertibles Just In Time For Summer.