Here's Why the Pressure to Cut Workers Hasn't Materialized
While economists saw evidence in ADP's National Employment Report that the large federal spending cuts had created a "softer job market this spring," the number of planned layoffs at U.S. businesses fell in May for the third consecutive month. Employers announced 36,398 job cuts last month, a 4.5 decrease from the 38,121 cuts made in April, according to the outplacement consultancy firm Challenger, Gray & Christmas. For Chief Executive Officer John Challenger, this decrease means the economic "pressure to cut people just isn't there. Rather, the job market looked "very positive," he said.
In fact, an examination of Challenger's numbers showed little evidence that fiscal austerity in Washington was hurting job growth. However, May typically experiences the smallest number of layoffs each year.
"So far, the threat of massive job cuts related to federal spending cuts has failed to materialize," Mr. Challenger said in a statement released Thursday. Although a full recovery is far from assured as far as government downsizing is concerned, improvements in the economy may delay or minimize the impact on the workforce, he noted.
May's layoffs were significantly lower than the figures recorded a year ago; last May, job cuts numbered 61,887. To date, the nation's employers have announced 219,560 planned job cuts in 2013.
Recent data has suggested that fiscal belt-tightening has occurred as a result of the $85 billion spending cuts that were implemented at the beginning of March. Yet, the Challenger report showed there were fewer than 1,500 job cuts directly attributed to federal cutbacks and the sequester, with the majority of those layoffs coming in the defense sector. It was the healthcare sector that suffered the biggest job losses last month;, layoffs rose to 4,886 as Affordable Care considerations become more pressing. Still, considerable job generation is expected in the healthcare sector as a wide-range of companies prepare to implement Obamacare's provisions.
As for the future, the consultancy firm expects "layoffs to remain muted through the third quarter." According to Challenger, if gains in home sales and prices continue, the improvements will "drive up consumer confidence and spending through the summer, which should help the economy withstand the typical summer slowdown."
Challenger's report comes one day before the U.S. Department of Labor releases its key U.S. jobs report. Economists expect the report to show that job gains increased slightly to 170,000 for the month of May, while unemployment was forecast to stay constant at 7.5 percent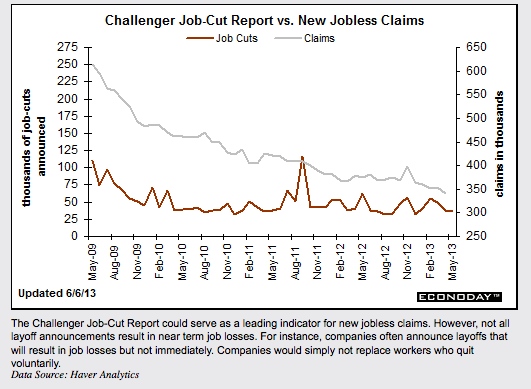 Follow Meghan on Twitter @MFoley_WSCS
Don't Miss: Did This Jobs Report Spark the Dow Dive?