Here's Why the SEC Is Inspecting J.C. Penney's Finances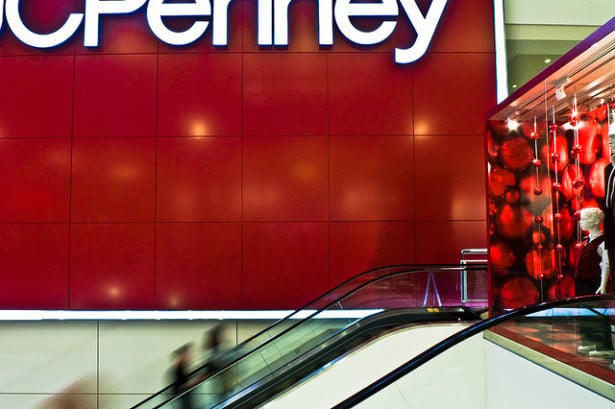 Despite the recent improvement in J.C. Penney's (NYSE:JCP) same-store sales, concerns for the retailer's financial health remain, especially for the U.S. Securities and Exchange Commission.
Shares of J.C. Penney — the century-old department store chain deep in hot water — opened on January 2, the first trading day of the year, at $20.01, a price 40.71 percent below its year-ago level. On February 22, the stock rose to the highest price it would reach this year to date, touching $23.10 during the day's trading. However, from that moment forward, the stock has charted a generally downward course.
The replacement of Ron Johnson, whose predecessor took over as chief executive in April, prompted a significant selloff, as did the late-September announcement that the company would sell 84 million shares in a public offering to raise more than $810 million. Following the news, shares dropped to what was then a 13-year low of $9.93 per share. Share prices continued to drop for weeks, pressed to further lows by concerns for the company's liquidity.
Just days before the stock offering was announced, Goldman Sachs analyst Kristen McDuffy wrote a research note that spooked investors. "Weak fundamentals, inventory rebuilding, and an underperforming home department will likely challenge J.C. Penney's liquidity levels in the third quarter," she said, prompting speculation that a bankruptcy filing was in the company's near future.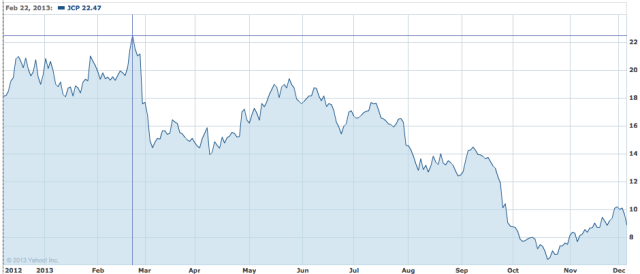 But then J.C. Penney released an update on the progress it has made in turning around the company's operations. A 0.9 percent increase in October may seem like a nearly negligible increase in same-store sales for most retailers, but J.C. Penny is not most retailers. In 2012, revenue plunged 25 percent, customer traffic dropped 13 percent, and the company's stock price fell 50 percent. That 0.9 percent growth was the retailer's first month-over-month increase in almost two years.
October's increase in same-store sales — a key measure of retailer strength — was a welcome life raft and a sign that the change in strategic direction employed by retailer's management had begun to show fruits. To J.C. Penney, it was evidence that the company has made "meaningful progress in its turnaround" and "significant progress in addressing the challenges it faces." And even though the company missed analyst expectations for earnings and revenue in the third quarter, the stock rose on optimism over sales trends.
Despite the modicum of improvement that J.C. Penney's turnaround report and third-quarter earnings contained, the attention of the SEC was aroused by the company's share offering. A letter of inquiry dated October 7 sought an explanation of the retailer's financial position. In J.C. Penney's most recent 10-Q report, filed on Thursday, the company explained that the regulatory agency had requested "information regarding the Company's liquidity, cash position, and debt and equity financing, as well as the Company's underwritten public offering of common stock announced on September 26, 2013."
J.C. Penney also noted that it was cooperating with the investigation by providing the necessary materials. Following the release of the 10-Q report, shares dropped 2 percent in after-hours trading, opening Friday morning at $8.59.
While J.C. Penney's stock price is still plummeting, the company's sales are increasing. On Tuesday, the company reported that same-store sales rose 10.1 percent over the past 12-month period, which included the important Thanksgiving holiday. In particular, sales increased 0.9 percent in the month of October and 10 percent in November. Comparatively, same-store sales dropped 32 percent in the fourth quarter of last year.
But hidden in the good news was a concerning trend: In October, even though sales increased, store visits declined, meaning that J.C. Penney has been able to get customers to buy more items. In the industry, that is called increasing the conversion rate.  While the company did not disclose details about customer traffic in the statement detailing the same-store sales improvement, it is clear to Maxim Group analyst Rick Snyder that unless the retailer can "start to get incremental customers in the door, a turnaround will be very difficult." How sustainable and profitable J.C. Penney's sales gains are remain to be seen, as the analyst told Bloomberg in an interview on Wednesday.
"While a 10.1 [percent] increase is impressive, it may not be enough," he wrote in a research note obtained by Barron's. Shares are trading higher than their 52-week low of $6.24, which was reached on October 22. Shares have since added approximately $2 to their value, an indication that investors believe J.C. Penney capable of executing the turnaround. However, prominent J.C. Penney investor Kyle Bass' hedge fund, Hayman Capital Management, said in a Thursday interview with Bloomberg that his firm had sold its entire stake.
Follow Meghan on Twitter @MFoley_WSCS
Don't Miss: Prominent Hedge Fund Hears Crickets for J.C. Penney.