Here's Why the S&P 500 is Giving Investors Déjà Vu
Last month was another October for the record books.  The Dow (NYSE:DIA) surged 9.5%, representing its best month since October 2002.  Measured by points, the Dow's 1,041 point gain was the biggest ever.  Likewise, the S&P 500 (NYSE:SPY) gained nearly 11%, representing its best October performance since 1982.  Although equities gave an Oscar winning performance last month, November is reminding investors not to jump back into the water without a tightly fitted life jacket.
On the first trading day of November, the Dow lost 2.48%, while the S&P 500 fell 2.79%.  Banking giants Bank of America (NYSE:BAC) and JP Morgan (NYSE:JPM) fell 6.30% and 5.90%, respectively. The financial markets were once again rattled by the euro zone soap opera.  Greek Prime Minister George Papandreou surprised European leaders Monday when he called for a referendum on the new aid package for Greece, putting austerity measures and potentially the nation's membership in the euro zone to a popular vote.  Morgan Stanley (NYSE:MS), the US bank believed to have the most exposure to the euro crisis, plummeted 8% on Monday.  Other large S&P 500 members such as Citigroup (NYSE:C), Wells Fargo (NYSE:WFC) and General Electric (NYSE:GE) also closed sharply lower.
Investing Insights: Will Exxon Shares Gain Traction After Slipping Below $80?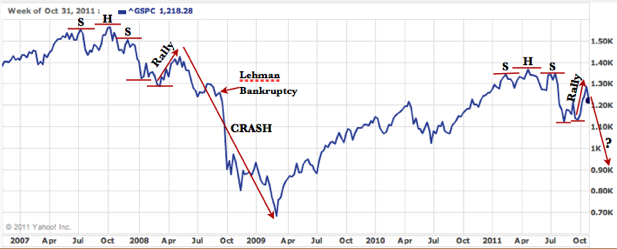 Obviously, the markets did not take the referendum news well, but is there more trouble ahead for equities?  The chart above shows the 5-year timeline for the S&P 500 (NYSE:SPY).  Notice the head and shoulders pattern in 2007.  The S&P then made an imperfect double bottom, rallied, and ultimately crashed.  Since the 2009 lows, equities have rallied sharply and appear to be forming the same pattern again.  There is another possible head and shoulders pattern that started to form earlier this year, followed by an imperfect double bottom, and another rally.  The head and shoulders pattern also receives more validity if it comes after a large rally, which is the case in both patterns shown on the chart.
Although the collapse of Lehman Brothers intensified the 2008-2009 crash, the chart clearly shows that the S&P had already started rolling over before Lehman's demise on September 15, 2008.  Even though many believe the market is in better shape than in 2008, who's to say another Lehman event is not waiting right around the corner?  The recent collapse of MF Global (NYSE:MF) accompanied by a sharp pullback, reminds investors that perhaps the best life jacket in the current market is a boatload of cash.
Don't Miss: Here Are The Biggest Winners & Losers From MF Global's Bankruptcy.