Here's Why the Stock Market Is Still Vulnerable
Another record-setting week takes the U.S. stock market farther into bubble territory.
For the week, the U.S. stock market and its major indexes, the Dow Jones Industrial Average (NYSEARCA:DIA) and S&P 500 (NYSEARCA:SPY) set new all-time highs one again in the face of poor economic news and weak earnings. For the week, the Dow rose 1.6 percent and the S&P 500 gained 2 percent. The Nasdaq (NYSEARCA:QQQ) added 1.8 percent for the week. All major indexes remain overbought and in record territory according to several technical indicators.
On My ETF Radar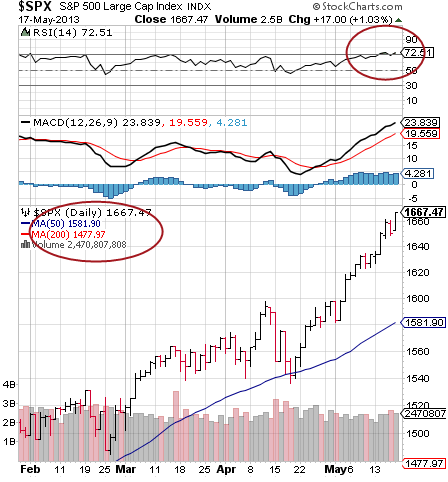 In the chart of the S&P 500, we can see how the index has returned to overbought territory with RSI above 70 and the index now far above its 50- and 200-day moving averages.
This major stock market index is now 12.8 percent above its 200-day moving average, an extreme not seen since March 2000, just before the onset of the dot-com crash. Margin interest is near record highs and earnings have been mediocre, at best, and in recent days various Fed officials have been hinting that a step back from quantitative easing could be coming soon.
All of this adds up to a continued high risk environment for the stock market in an overbought, bubbly environment.
ETF News You Can Really Use
Economic data points were mixed last week as retail sales grew 0.1 percent, beating expectations, and consumer sentiment and leading indicators rose on Friday.
However, the negative news far outweighed the positive as weekly jobless claims unexpectedly spiked higher, the Empire Index fell into negative territory, vastly missing expectations, industrial production declined, also missing expectations, and the Philly Fed took a sharp tumble into negative territory.
European economic data indicated that the euro zone recession is deepening, with nine of seventeen countries in recession. The European economy fell 0.2 percent in the first quarter and now has been in recession for six straight quarters. Even powerhouse Germany managed to just barely stay out of recession with a gain of 1/10 percent in the first quarter.
Earnings did little to add cheer as Dell (NASDAQ:DELL) was hit with a 79-percent drop in earnings, J.C. Penney (NYSE:JCP) reported a $350-million loss in its first quarter, and Wal-Mart (NYSE:WMT) saw same-store sales dropping and earnings missing expectations as consumers hunkered down in the face of ongoing high employment and higher payroll taxes.
Next week brings some important economic data but the big headlines will come on Wednesday when the Federal Reserve's meeting minutes are released. A recent stream of comments from Fed Presidents that the Federal Reserve should start backing off on quantitative easing could be setting the stage for some unsettling comments in the upcoming minutes.
Market participants will also be keeping a close eye on Fed Chairman Ben Bernanke's testimony to the U.S. Congress on Wednesday for hints over the future of quantitative easing and the Fed's future plans. Numerous analysts and commentators have agreed that the recent rally is largely based on easy money supplied by the Fed and that investor reaction to removal of the "punch bowl" could be highly negative.
Other important reports will be weekly job claims, Markit PMI and new home sales on Thursday and durable goods orders on Friday.
Bottom line: The stock market bubble grows bigger as investors continue to believe that the Federal Reserve will not cut back on its quantitative easing programs, even as warnings emerge. Coupled with overbought conditions and a slowing global economy, the stock market remains in a vulnerable situation.
John Nyaradi is the author of The ETF Investing Premium Newsletter.
Don't Miss: Are US Banks Playing with Fire in the Commercial Loan Market?