Here's Why the U.S. Economy is Missing February
February proved to be a bright spot in the U.S. economic recovery. But a recent stream of economic indicators have painted a much more negative picture of March; most recently, the Labor Department's Economic Situation report and the Commerce Department's Retail Sales report showed that the economy experienced setbacks last month in both the labor market and consumer spending. Adding to the concerning evidence was Monday's Chicago Fed National Activity Index for March, a monthly gauge designed to measure overall economic activity and related inflationary pressure.
For the month of March, the index dropped to minus-0.23 from February's upwardly revised plus-0.76. A negative reading, such as this one, indicates that the national economic activity has fallen below its historic trend. March's weakness pulled the three-month average — a less volatile measure of economic activity — from February's plus-0.12 to minus-0.01.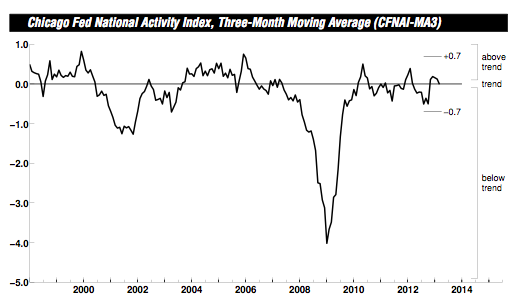 Three of the four broad categories of indicators that make up the index decreased from February's levels, with only one category making a positive contribution to the index last month. Employment was a key metric that helped draw the index into negative territory, declining to a reading of minus-0.06 from the plus-0.31 recorded last month. In addition, the measure of sales, orders, and inventories fell to minus-0.02 from plus-0.13. While some growth came in production indicators, which came in at plus 0.01, that figure was well down from the previous month's reading of plus-0.47.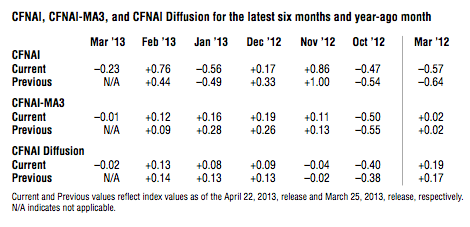 Don't Miss: Is the Stock Market Bracing For More Volatility Ahead?