Here's Why the U.S. Trade Deficit Is Widening
Data released on Wednesday morning show that the U.S. trade deficit increased in July. The U.S. Census Bureau reported a July deficit of $39.1 billion, an increase of $4.6 billion or 13.3 percent, from $34.5 billion in June. Total exports in July declined by $1.1 billion to $189.4 billion and total imports increased $3.5 billion to $228.6 billion. July's deficit was approximately in line with economist expectations of $39 billion.
While the trade gap widened sequentially in July, it is still low relative to the same period last year. Compared to July 2012, exports are up by 3.3 percent and imports are up by 0.8 percent, while the total deficit is down by $4.3 billion. June's deficit was particularly narrow, making the comparison difficult. July's trade gap was in line with the three-month moving average of $39.1 billion.
At a glance, the trade data is consistent with what other economic indicators have suggested over the past few months. America's domestic economy is recovery at a slow but steady clip, generating a reasonable amount of demand for imports, while a slower recovery in Europe has generally dampened exports.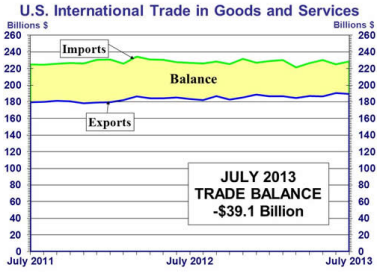 The only major trading partner with which the U.S. increased its surplus in July was Brazil (from $1.6 billion to $1.7 billion), while deficits increased substantially with China (from $26.6 billion to $30.1 billion), the European Union (from $7.1 billion to $13.9 billion), and Japan (from $5.5 billion to $6.8 billion). The total U.S. goods deficit increased by $4.5 billion to $58.6 billion while the total services surplus decreased by $0.1 billion to $19.4 billion.
The decline in goods exports was led by a $1.6 billion drop in capital goods and a $1.4 billion drop in consumer goods exports. The U.S. exported $1.7 billion more industrial supplies and materials. Exports of services were essentially unchanged on the month.
An index of manufacturing exports from the Institute for Supply Management increased from 53.5 in July to 55.5 in August, indicating that exports were growing at a faster rate than before. However, a similar index for imports increased from 57.5 to 58.0, indicating that imports were growing at an even faster rate, which is consistent with the July trade data.
The trade report can be used as an indicator of both the health of the U.S. economy and the health of foreign economies. Strong imports typically suggest that the domestic economy is doing well because demand for foreign goods is high, and strong exports suggest the same for foreign economies.
While the recovery in the U.S. has been fairly modest to date, it has been more robust than the progress made in Europe. Real gross domestic product increased at an annual rate of 2.5 percent in the second quarter in the U.S., whereas the European Union just tripped out of recession in the quarter. In the second quarter, exports increased by 1.6 percent in the EA17 and by 1.7 percent in the EU27, and imports increased by 1.5 percent and by 1.2 percent, respectively.
Don't Miss: Economic Confidence: Americans Expect Worse to Come.