Here's Why Toys 'R' Us is Flaking on IPO
Toys 'R' Us has decided to pull its plan for an initial public offering. Owned by Bain Capital LLC, KKR & Co. (NYSE:KKR) and Vornado Realty Trust (NYSE:VNO), Toys 'R' Us filed its first IPO documents with the U.S. Securities and Exchange Commission almost three years ago. According to Bloomberg, the toy chain with 1,500 stores cited "unfavorable market conditions and the company's recently announced executive leadership transition." The decision to stop the processing of going public with the company was filed yesterday.  Toys 'R' Us CEO Gerald Storch announced last month that he would step down.
In a different filing yesterday, Toys 'R' Us revealed its fourth-quarter revenues and profits. Profit dropped 30% to $239 million from the same quarter last year and fell 75% to $38 million from the previous fiscal year (February second is the end of the toy company's fiscal year). Quarterly revenue was no better. It fell 2.6% to $5.77 billion from the same quarter in the previous year, driven by a 4.5% same-store sales decline in the US.
Toys 'R' Us's owners–Bain Capital LLC (founded by former Presidential candidate Mitt Romney), KKR & Co. and Vornado Realty Trust–have been trying to turn the large toy store chain around since they bought it in 2005 for $6.6 billion. By this time, the toy chain was already struggling to keep market share. Stiff competition driven by lower prices by large retail chains like Wal-Mart (NYSE:WMT) and Target (NYSE:TGT) were making Toys 'R' Us a less attractive option for parents shopping for toys.
Some of the tactics tried by Toys 'R' Us since its 2005 change of ownership have been less than spectacular. Take for example Toys 'R' Us's entrance into the tablet market. The Toys 'R' Us Tabeo (actually built by Archos for the toy company) has a MSRP of $149.99 and bills itself as kid-friendly. However, PC Magazine rates it only as "fair", with two out of a possible five stars, citing "Below average display. No Google Play. Sluggish performance. Confusing parental controls. Poor battery life." PC Magazine notes that the Amazon Kindle Fire HD is only $50 more, offers much better hardware and has better parental controls.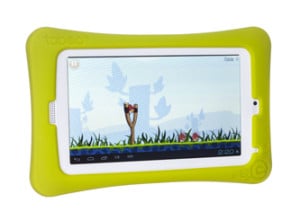 With an IPO now off the table and dismal performance last year, the struggling toy retailer is in a serious jam. Though according to NorthJersey, the Wayne, New Jersey based toy company has said that part of the reason for the net income decline was interest expenses from debt refinancing and an increase in income tax payments. Will Toys 'R' Us make it to the next Black Friday and the start of the holiday season? That remains to be seen. First they need a new CEO.
Don't Miss: Is the College Debt Bubble Finally Bursting?