Here's Why Unemployment Is Still at Unacceptable Levels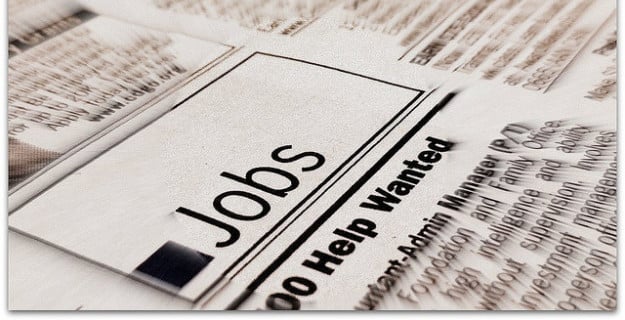 Last week, during his speech following the Federal Reserve's decision to maintain its policy of buying $85 billion in government debt and mortgage-backed securities per month, Chairman Ben Bernanke explained that there is "no magic number" that the central bank is looking for the U.S. unemployment rate to fall beneath before it begins to dial back stimulus.
But the fact that Federal Open Market Committee did not begin tapering shows that policymakers are not confident enough in the state of the economy — and that is not good for the health of the labor market. Recent data "did not quite meet the standard of ratifying or confirming our basic outlook" of improvement in the job market and wider economy, the chairman explained.
While the Federal Reserve previously set a 7 percent unemployment rate as possible threshold for ending monetary stimulus, Bernanke pointed out that the jobless rate is not a "great" measure of labor-market health; the recent drops in the unemployment rate can largely be attributed to decreases in labor force participation, rather than job creation.
The reason the unemployment rate fell to 7.3 percent in August was not because the ranks of the unemployed were significantly reduced, but because of the number of job hunters that dropped out of the workforce. In fact, this year, the unemployment rate has dropped from 7.9 percent to 7.3 percent while the overall level of employment has remained flat because so many people have dropped out of the workforce.
"Of course, to say that the job market is improved does not imply that current conditions are satisfactory," Bernanke said, noting that at 7.3 percent, the jobless rate is above acceptable levels. He also characterized the current recovery as uneven, because while layoffs are trending near pre-recession levels, job creation has yet to erase the ravaging effects of the recession.
For most of September, first-time claims for unemployment benefits have been trending down. Initial claims dropped by 5,000 for the week ended September 21 to a seasonally adjusted 305,000 — a nearly six-year low and a figure that indicates employers have ended the long cycle of elevated layoffs that characterized the 2007 to 2009 recession. On an unadjusted basis, 253,668 new applications were filed last week, which compares against 303,685 initial claims in the same week in 2012.
Jobless claims provide the first look at the employment situation for any given month, but since the weekly figures can be volatile, economists use the four-week moving average to understand wider trends. In the past few weeks, the four-week moving average has averaged around 2007 levels, and last week, the figure plummeted 7,000 to 308,000.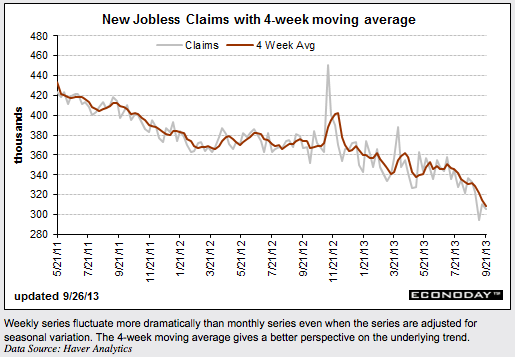 Economists had forecast 330,000 new claims, and the lower figure was seen as a reason for optimism. "The decline in claims is encouraging and suggests ongoing labor-market improvement," TD Securities strategist Gennadiy Goldberg told Bloomberg. "Employers are little bit more positive about the economic outlook."
But jobless claims are only one part of the story.
Because weekly applications for unemployment benefits serve as a proxy for layoffs, recent numbers indicate that employers are refraining from firing workers. Fewer layoffs mean that companies have pared their workforces almost as much as possible, which puts employers in a position to boost payrolls, should business improve.
A strengthening labor market is necessary to end income growth stagnation and spur consumer spending, which accounts for about 70 percent of the U.S. gross domestic product. But employers are still behaving as they did during the recession, keeping their workforces — and therefore, labor costs — as low as possible.
In 2006, jobless claims averaged around 300,000 and even temporarily dipped below that level. The low level of claims was accompanied by an average addition of 193,000 jobs per month during the first eight months of the year and an unemployment rate below 5 percent. Weekly claims for unemployment benefits rose slightly in early 2007 but remained near the low-300,000 level until the end of the year. However, job creation weakened, sinking to an average of 93,000 payroll additions per month in the first eight months of the year, an early sign of economic problems.
Jobless claims are now trending down near the low 300,000 range, and with employers' addition of 169,000 jobs in August, the U.S. economy has created an average of 180,000 jobs per month through the first eight months of the year. But unlike in 2006, the unemployment rate is much more elevated, at 7.3 percent. That disparity indicates that employers are not adding as many workers to their payrolls as they normally do after a economic downturn; the economy should be adding jobs at a much faster rate.
While August represented the 35th consecutive month of job creation, the current pace of employment gains is nowhere near enough to absorb the backlog of unemployed workers. According to the Hamilton Project at the Brookings Institution, it will take more than seven years at the current rate of job creation to close what is known as the jobs gap left by the recession. If the economy were to create enough jobs to fill that hole, 300,000 jobs per month would need to be created.
Analysts may say that conditions are modestly improving, but the pace of the improvement is concerning Americans. The Conference Board's confidence index fell to 79.7 this month, the weakest reading since May, with the share of Americans who said jobs would become more plentiful in the next six months dropping to 16.9 percent from 17.5 percent. Still, the divide between the number of respondents who said work opportunities were currently scarce and those who answered that jobs were becoming easier to find is at its narrowest since September 2008.
Improvements in jobless claims are often hard to see on a week-by-week basis, especially as the numbers are still slightly volatile. In the week ended September 7, the total number of people claiming benefits in all programs was 3,921,399, an increase of 22,769 from the previous week. There were 5,173,998 people claiming benefits in all programs in the comparable week in 2012. Other unemployment data have been volatile as well, although continuing claims for unemployment benefits are hovering near a recovery low.
The number of people continuing to receive jobless benefits increased by 35,000 to 2.82 million in the week ended September 14. Those individuals who have used up traditional benefits and are collecting emergency and extended payments rose 32,500 to 1.35 million in the week ended September 7, the most recently available data.
Follow Meghan on Twitter @MFoley_WSCS
Don't Miss: Will Greece Lift Its Ban on Mortgage Foreclosures?