Here's Why Wal-Mart Workers are Gearing Up for Another Demonstration
Wal-Mart (NYSE:WMT) workers organized under union-backed activist group OUR Walmart are planning another day of protest Thursday. Low-wage workers and supporters of a higher minimum wage and better workplace conditions have reportedly planned walkouts in 15 cities across the U.S. in a demonstration that will echo fast-food worker walkouts that occurred in 60 cities last week.
This week's protests are motivated in part by the nearly 80 OUR Walmart members who have reportedly been disciplined for their participation in previous demonstrations. Organizers allege that Wal-Mart's actions against demonstration participants are illegal, and they have filed charges with the National Labor Relations Board. OUR Walmart is seeking an injunction against Wal-Mart to address the company's alleged retaliation to the walkouts.
What exactly Wal-Mart has done to retaliate is a matter of contention between the company and protestors. Several workers have come forward, claiming to have been fired for their participation in demonstrations. As recently as August, a Wal-Mart spokesperson told The Nation that "no associates were disciplined for participating in any specific protests."
It's unclear how many people have actually participated in the demonstrations. Organizers suggested that hundreds of workers and thousands of supporters have been involved so far and that the movement is growing every day. However, the pool of people with skin in the game is as large as 35 million — the number of people estimated to earn $10.55 per hour or less.
Demos, a research and policy center focused on economic stability, defines low-wage work as "a job paying $12 an hour or less, equivalent to an annual income of about $24,000 for a full-time worker." Using this definition, employment figures from a National Employment Law Project report, and estimates of the share of low-wage workers at each business, Demos calculated that McDonald's (NYSE:MCD) and Wal-Mart employ a combined 1.48 million low-wage workers.
Low-wage workers from numerous sectors have engaged in demonstrations recently, protesting wages and work environments they say have forced them into poverty. The National Poverty Center at the University of Michigan reported that 15.1 percent of people in the U.S. lived in poverty in 2010, the highest rate since 1993.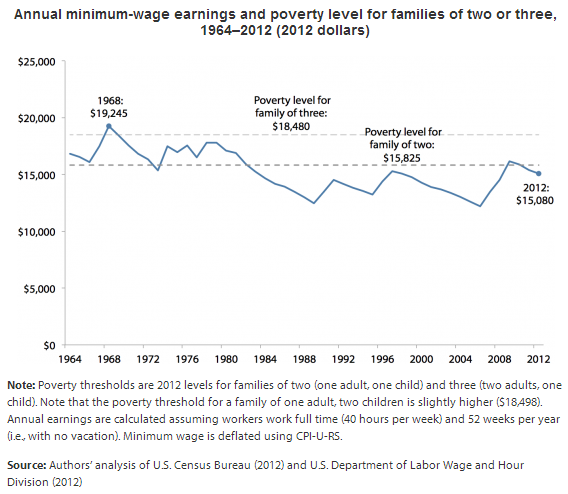 Like us on Facebook to get the latest from Wall St. Cheat Sheet right in your News Feed.
Don't Miss: 6 Film Directors Who Make a Killing for the Studios.