Here's Why Workers Weren't Scared to Quit in August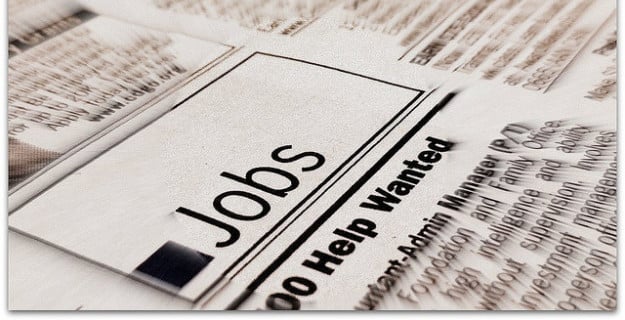 On its surface, the Department of Labor's Job Openings and Labor Turnover Survey, or JOLTS report, showed that prospects for the American worker improved slightly in August, the most recent monthly statistics available. According to the government's data, there were less than three unemployed workers for every posted job opening. In a healthy economy, that ratio is typically 2 to 1.
When the recession began, in December 2007, the ratio was 1.8, and at the end of the recession, in June 2009, there were 6.2 unemployed persons for every job opening. However, in this case, the change in ratio is partly the result of a shrinking number of unemployed workers, which is largely because many job hunters have given up looking for work.
In a labor market plagued by weak job creation, competition for employment remains tight. Much progress has made since 2009 — private sector employment has risen for 43 consecutive months, during which time businesses have added a total of 7.6 million jobs. Nevertheless, the hole left in the jobs market left by the recession is still gaping. More than 4 million people have been out of work for more than six months, and more than 11.5 million in total are looking for a job.
To put it simply, "the labor market recovery continues, but the pace of job growth remains disappointing," PNC Financial Services Group economist Gus Faucher told the Washington Post after Tuesday's Employment Situation Report.
With only 148,000 jobs added to payrolls in September, hiring was much weaker in September than in August, when 193,000 jobs were added. However, August's jobs report was characterized by a record number of job hunters dropping out of the workforce. The share of working-age Americans who were employed or looking for work fell to 63.2 percent that month — the lowest level since 1978, when fewer women were participating in the labor force.
August's jobs report made it clear many workers have given up on finding employment. JOLTS data reinforced that narrative. While the divide between the unemployment level and job openings has narrowed, employers posted only slightly more jobs in August than in July and filled fewer of those posted jobs than in the previous month.
The Labor Department reported there were 3.9 million job openings in August, an increase of 6.9 percent from the year-ago level and a decrease from last spring's figure. Comparatively, the number of hires remained flat, at 4.5 million. In fact, the number of workers hired each month has been more or less flat through most of the year. In August, layoffs rose slightly, even though they remained in line with or below pre-recession levels.

That employers have kept hiring low and slightly increased layoffs indicates that still-unemployed workers have become discouraged and left the labor force, as the August jobs report showed.
Still, at 3.3 percent, the hire rate came in slightly above the separation rate of 3.2 percent, indicating that employment expanded ever so modestly. "Large numbers of hires and separations occur every month throughout the business cycle. Net employment changes results from the relationship between hires and separations," the government report said.
"When the number of hires exceeds the number of separations, employment rises, even if the hires level is steady or declining," the report continued. "Conversely, when the number of hires is less than the number of separations, employment declines, even if the hires level is steady or rising." Separations include quits, layoffs, discharges, and other separations.
However, there was another narrative hidden in the jobs survey. It contained some evidence that the labor market has taken a small step toward normalcy. The reason economists and policymakers — including Janet Yellen, the Obama administration's nominee to lead the Federal Reserve —  look at JOLTS data is because such data shed light on the job turnover rate. For months — even while layoffs have dropped below pre-crisis levels, new claims for jobless benefits have fallen near a six-year low, and job creation has been very slow but steady — the job turnover rate has been disappointingly low.
When workers do not quit and move on to other jobs, there are fewer opportunities for new entrants to the labor market, and that backs up the system. As a result, wages are depressed, productivity growth is low, and long-term unemployment remains high.
During the recession, the voluntary quit rate slumped, and throughout the anemic economic recovery, it has been slow to rebound. But the Labor Department reported that of the total 4.4 million separations, 2.4 million were voluntary quits. The number of Americans leaving their jobs was a slight increase from July, a 10.5 percent jump from August 2012, and the fourth uptick in the past five months.
The number of Americans who quit their jobs in August was higher than in any month since the recession ended, an important sign of labor market healing, as workers will not quit unless they have another job or are sure they can find one.
The JOLTS report is one of Yellen's favorite economic releases. "I am likely to supplement the data on employment and unemployment with measures of gross job flows, such as job loss and hiring, which describe the underlying dynamics of the labor market," she said at a March National Association for Business Economics policy conference. "For instance, layoffs and discharges as a share of total employment have already returned to their pre-recession level, while the hiring rate remains depressed. Therefore, going forward, I would look for an increase in the rate of hiring."
Follow Meghan on Twitter @MFoley_WSCS
Don't Miss: Jobless Claims: Still Inflation from Government Shenanigans.