Here's Your State of the Union Address in One Picture
Late Tuesday, President Barack Obama delivered his first State of the Union address since winning re-election. He discussed everything from climate change to gun control.
A large portion of the speech focused on jobs, with the President stating, "Our economy is adding jobs – but too many people still can't find full-time employment. Corporate profits have rocketed to all-time highs – but for more than a decade, wages and incomes have barely budged. It is our generation's task, then, to reignite the true engine of America's economic growth – a rising, thriving middle class. It is our unfinished task to restore the basic bargain that built this country – the idea that if you work hard and meet your responsibilities, you can get ahead, no matter where you come from, what you look like, or who you love."
The complete breakdown of the speech, as prepared for delivery, can be seen below in the word cloud from Word It Out.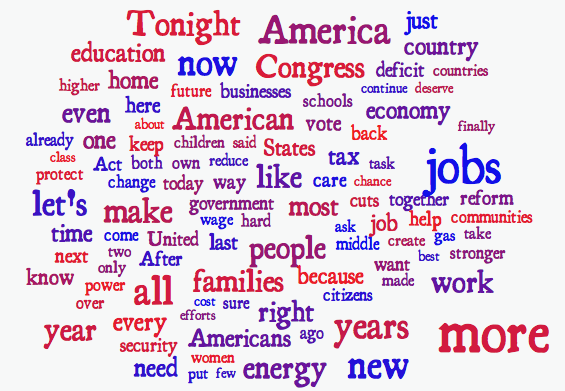 Don't Miss: How Cash-Strapped are Americans?