Hershey Takes a Bite Out of China Candy Giant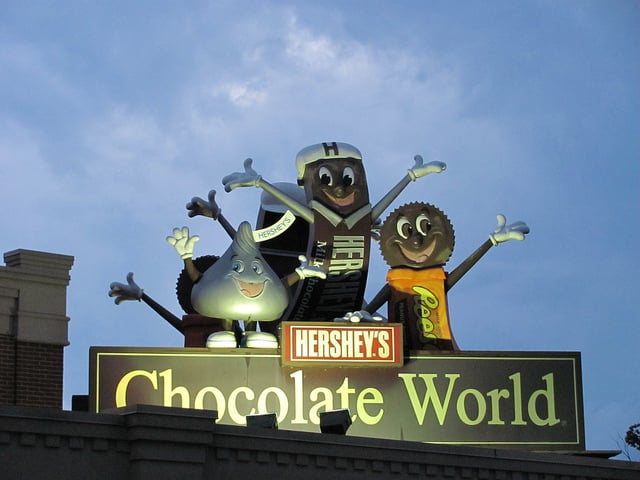 Hershey Co. (NYSE:HSY) is hungry — and it wants to take a bite out of Chinese candy maker Shanghai Golden Monkey Food Joint Stock Co. That's what the Wall Street Journal says at least, as it reported Thursday that the chocolate giant is getting ready to buy Shanghai Golden Monkey for nearly $600 million. According to a Hershey statement released Thursday, the Harrisburg, Pennsylvania-based company plans to acquire 80 percent of Shanghai Golden Monkey in a deal that is expected to close in the second quarter of 2014. Hershey will pay $498 million to Shanghai Golden Money in cash up front, and then sign off on an $86 million debt.
Hershey now joins the likes of many other global retailers that have worked to increase their presence in China, one of the world's most lucrative markets for retail. Thanks to a growing middle class, retailers are now enjoying more success in the country, and Chinese consumers have proven that they also have a sweet tooth, as China currently hosts one of the fastest-growing markets for sweets. According to the Journal, sales of chocolate, candies, and gum in China jumped 46 percent from 2007 to 2012, and reached more than 79.6 billion yuan or about $13 billion. Shanghai Golden Monkey has benefitted significantly from these sales, boasting a 1.4 percent market share of confectionary sales last year, and now Hershey is ready to join forces with the Shanghai-based company as it works to expand its international sales to 25 percent of global sales by 2017, up from its current 10 percent.
Hershey can profit from a fruitful partnership with Shanghai Golden Monkey not only because the Chinese company can help Hershey gain a more solid footing in the country, but also because the Shanghai-based candy giant specializes in candy and snacks while Hershey specializes in chocolate. Hershey enjoys significant success in its home market thanks to Americans's hearty appetites for its dark, milk, and white chocolate offering, but foreign players like Hershey have had more trouble cracking the Chinese market, and that's where Shanghai Golden Monkey comes into play.
The Journal explains that Chinese consumers tend to enjoy flavors that are different than their Western counterparts, making it harder for international companies to market and manufacture sweets that appeal to them. Shanghai Golden Monkey has won consumers over with items like strawberry-flavored cheese chews, red-bean milk candies, seaweed-flavored wafer sticks, and dried tofu in fragrant numb and spicy flavor, so even though Hershey has a far way to go before it can match the intricacy of Shanghai Golden Monkey goodies, the Chinese company can still help Hershey manufacture its own concoctions, or at least let Hershey ride off of its successes.
To be fair though, Hershey has already tried to get creative on its own and appeal to Chinese tastes, and it launched a condensed-milk candy brand sold only in China in May, known in Chinese as the Yo-man. It is not yet clear how well the candy is selling, but it is evident that Hershey is trying, and the company's new partnership with Shanghai Golden Monkey will only help its cause. Once Hershey and its new partner's deal gets solidified, the Journal reports that Hershey plans to increase the number of stores in China by 32 percent and its sales force by 60 percent in 2013 from a year earlier. The Pennsylvania-based company is also already gearing up to unleash new sweet treats in China and it wants to increase sales by a factor of seven in China over the next five years.
More From Wall St. Cheat Sheet: