Hewlett Packard Co. Earnings: Profit Climbs, But Outlook Disappoints
S&P 500 (NYSE:SPY) component Hewlett Packard Co. (NYSE:HPQ) reported its results for the second quarter. Hewlett-Packard Company provides products, technologies, software and services to individual consumers, businesses and large enterprises, including customers in the government.
Don't Miss: Wall St. Cheat Sheet's newest Feature Trades of the Month!
Hewlett Packard Earnings Cheat Sheet for the Second Quarter
Results: Net income for the diversified computer systems company rose to $2.3 billion ($1.05/share) vs. $2.2 billion (91 cents/share) in the same quarter a year earlier. A rise of 4.7% from the year earlier quarter.
Revenue: Rose 2.5% to $31.63 billion YoY.
Actual vs. Wall St. Expectations: HPQ reported adjusted net income of of $1.24/share. By that measure, the company beat the mean estimate of $1.21/share. Estimates ranged from $1.19 per share to $1.26 per share.
Quoting Management: "HP executed well and delivered a solid quarter," said Léo Apotheker, HP president and chief executive officer. "Our enterprise strategy, with services at its core, is focused on higher value-added solutions. Today we are accelerating our efforts to align our services business model to our long-term strategy to deliver unprecedented value to our customers and a better return for our shareholders."
Outlook:
HP expects earnings of $5 per share for the year versus earlier guidance between $5.20 to $5.28 per share. That's substantially lower than analyst expectations of $5.24.
The company also lowered 2011 revenue guidance to between $129 billion and $130 billion — lower than previous guidance of between $130 billion to $131.5 billion. Wall Street was expecting $130.47 billion.
Key Stats:
The company has now seen net income rise in three-straight quarters. In the first quarter, net income rose 15.8% and in the fourth quarter of the last fiscal year, the figure rose 3.7%.
Revenue has risen the past four quarters. Revenue increased 3.6% to $32.3 billion in first quarter. The figure rose 7.5% in fourth quarter of the last fiscal year from the year earlier and climbed 11.9% in third quarter of the last fiscal year from the year-ago quarter.
Gross margins grew 1.1 percentage points to 24.6%. The growth seemed to be driven by increased revenue, as the figure rose 2.5% from the year earlier quarter while costs rose 1.1%.
Competitors to Watch: Dell Inc. (NASDAQ:DELL), Apple Inc. (NASDAQ:AAPL), Oracle Corporation (NASDAQ:ORCL), Microsoft Corporation (NASDAQ:MSFT), Cisco Systems, Inc. (NASDAQ:CSCO), Intl. Business Machines Corp. (NYSE:IBM), EMC Corporation (NYSE:EMC), Super Micro Computer, Inc. (NASDAQ:SMCI), RadiSys Corporation (NASDAQ:RSYS), and Silicon Graphics Intl. Corp (NASDAQ:SGI).
Stock Performance: Shares of HPQ are down over 7% from the previous close.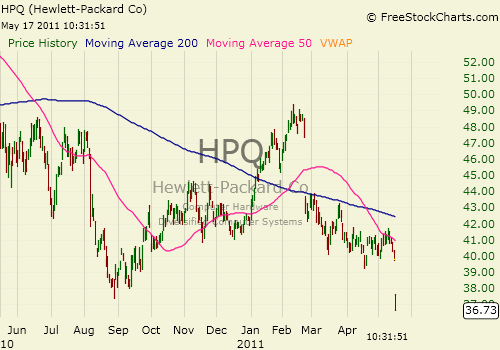 Don't Miss Wall St. Cheat Sheet's newest Feature Trades of the Month!