Hewlett-Packard Gets a Sell Rating and 2 Other Heavily Traded Stocks
Bank of America (NYSE:BAC): Current price $12.17
Bank of America will shell out $165 million to resolve a dispute concerning mortgage-backed securities which it sold to credit unions that later went bust. The federal agency that regulates credit unions, the National Credit Union Administration, announced the settlement on Tuesday. BofA did not concede any wrongdoing. The NCUA has filed similar lawsuits against other banks, and has won a total $171 million in resolutions.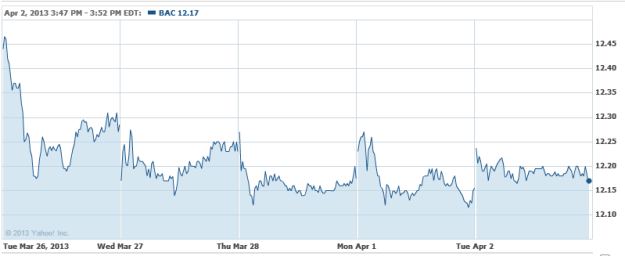 Vodafone Group (NASDAQ:VOD): Current price $29.38
Shares of Vodafone Group pushed United Kingdom stocks higher on Tuesday, subsequent to a report that Verizon Communications (NYSE:VZ) and AT&T (NYSE:T) are collaborating on a breakup offer for the U.K. telecom company. Vodafone shares rose to their highest level in over five years, up by 2.9 percent, as the Financial Times reported that Verizon and AT&T were forming an offer to break up the firm. A potential offer would price the firm at about $3.96 per share, marking a 40 percent premium to Vodafone's current share price, valuing the group at roughly $245 billion.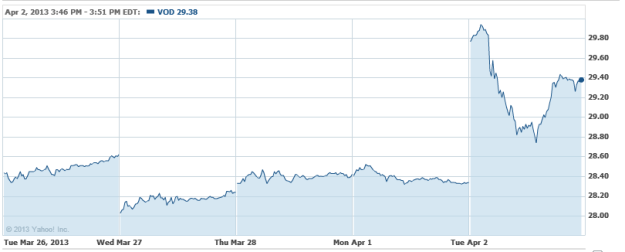 Hewlett Packard Co. (NYSE:HPQ): Current price $22
On Tuesday, Hewlett Packard shares fell after being downgraded at Goldman Sachs to Sell, warning that investors may be overestimating the firm's chances of a successful rebound as it deals with its declining PC and printing business. HP is in the middle of a remake that Chief Executive Meg Whitman has said will consume years, and is also struggling with intense rivalry in its servers and storage hardware unit, according to a Goldman research note, which went on to say that "coupled with the need to re-invest any savings from its current overhaul in research and business development, its earnings may continue to come under pressure this fiscal year and beyond."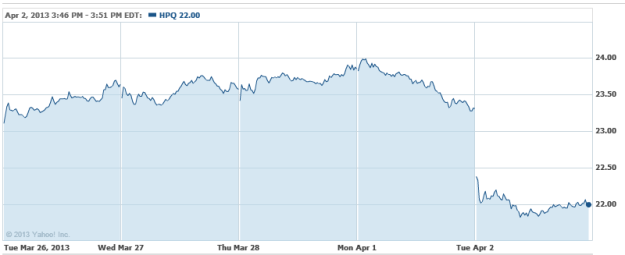 Investing Insights: Where Will Dell Go Next?