Hewlett-Packard Moves Toward Enterprise Storage Space and 2 Other Dow Movers to Watch
Hewlett-Packard Co. (NYSE:HPQ) Current price $25.10
Following the launch of the 'Moonshot' server two months ago, HP  has now unveiled a number of new storage solutions that will push the company farther toward the lucrative enterprise storage space, at the same time stemming its reliance on the PC market. These new products such as StoreOnce Virtual Storage Appliance, 3PAR StoreServ 7450 Storage, 3PAR Peer Persistence, StoreEver MSL6480 Tape Library and Data Protector 8 will complement the family of H-P's converged Infrastructure portfolio. HP's Converged suites unite servers, storage and networking products through which to manage data centers from a common platform.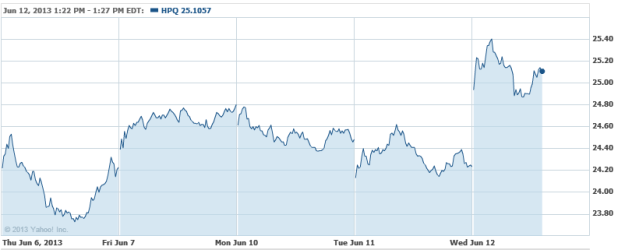 Procter & Gamble Co. (NYSE:PG): Current price $77.71
Heightening public awareness of its brands will be the reason, when Proctor & Gamble invades Manhattan on Wednesday of next week, handing out thousands of its trial-size products. The event is a response to the historic company's struggles to rebound from weak results under its newly reinstalled Chief Executive A.G. Lafley. During its most recent quarterly call with analysts in April, P&G said that it was accelerating spending on trial-size products to publicize its product benefits. The company makes well-known brands such as Crest toothpaste, Tide detergent, Ivory Soap and Pampers diapers, found in some 98 percent of American households, but many shoppers fail to link brand names with parent companies.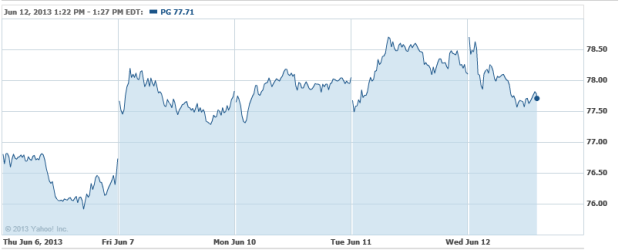 Merck & Co. (NYSE:MRK): Current price $47.70
It might be that Merck, Novo Nordisk, and other manufacturers of top-selling treatments for diabetes see requests to collect added data on a potential cancer link, while they endeavor to reassure United States regulators this week as to the drugs' safety. The FDA said that it is considering establishing a study, either through the agency or the firms, to more deeply explore whether medicines for Type 2 diabetes, such as Merck's Januvia and Bristol Myers-Squibb Company's Byetta, lead to pancreatic cell growth that could turn cancerous.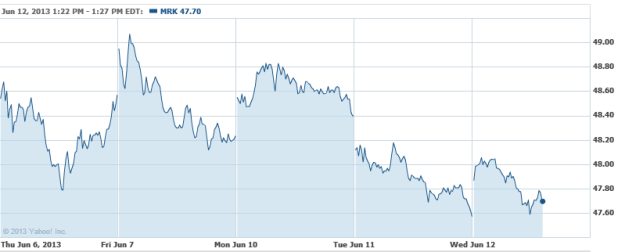 Investing Insights: How Are IAC's Websites Performing?