Hey Taxpayers, Here's How You're Subsidizing Wal-Mart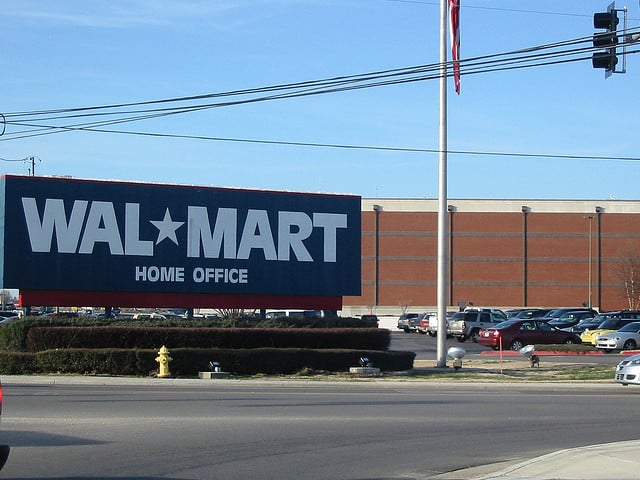 The operations of an airport in Rogers — a suburban city in Benton County, Arkansas, with a population nearly 56,000 — show the degree to which pork-barrel politics are still alive and well in the United States. That airport is home to Wal-Mart's (NYSE:WMT) corporate fleet of jet-powered aircraft, which company Director of Global Travel Services Duane Futch said was the world's largest during a 2006 interview with Business Travel News.
That one-runway airport has so few flights that it would not qualify for an air-traffic control tower under the Federal Aviation Administration's formula of costs and benefits, but as the airfield is needed to support the Wal-Mart based local economy, an exception has been made.
Even though lawmakers claim they want to end the practice of giving perks to hometown interests, Bloomberg reported Tuesday that U.S. taxpayers are paying to keep that tower operational. A spending bill passed two years ensured that the air traffic controllers who guide in Wal-Mart's 19 jets would remain funded, and the measure was supported by two Arkansas politicians: Republican Rep. Steve Womack and Democratic Sen. Mark Pryor.
Pryor's biggest donors include Wal-Mart employees and the company itself, which is the world's largest company by revenue. As a result, taxpayers were forced to pay for a larger portion of the tower's operation than mandated by FAA guidelines for low-traffic airports. The measure included in the spending bill capped the amount an airport would pay for a tower at 20 percent. The remaining 80 percent is paid by the FAA.
"In this time when we're trying to reduce deficits and find smart ways to cut what we're spending, here we are essentially giving a subsidy to a private corporation under the guise of air-traffic control," Erich Zimmermann, a senior policy analyst at Taxpayers for Common Sense, told Bloomberg.
Congress banned earmarks outright back in 2010, yet the passage of a spending bill, with language meant to aid specific projects, shows Congress is still permitting perks to be given to special interest groups. Not only that, but the bill also demonstrates that Congressional support of contract controllers over government workers has not declined. In fact, Congress has even forced the FAA to drop 149 planned tower closures that were to be part of the agency's spending cuts.
The dependence the Rogers Municipal Airport has on Wal-Mart traffic is clear: data from the Federal Aviation Administration show that the 19 of the company's U.S.-registered planes made a total of 4,118 flights to and from Rogers from January 1, 2012, through May 10, accounting for as much as 22.6 percent of total flights during that period. Of the approximately 500 airports in the United States that have a tower, Rogers is among the least used.
Former FAA Associate Administrator George Donohue told Bloomberg that the Rogers airport may not even need a tower, given its current traffic levels. "How can they get more subsidies, especially ones that don't pass any standard cost-benefit analysis?" he added. "That's pure pork." According to Bloomberg, the airport pays $100,000 less per year to run its tower than it would have under the FAA's original funding formula, which mandates that airports pay a percentage of the operational costs to keep their towers.
Before the spending bill was passed, Rogers paid 31 percent of the cost of its tower, which amounted to more than $130,000 per year, airport manager David Krutsch told the publication. That figure represented nearly one-third of the airport's annual $430,000 budget, and Krutsch said the cost was so burdensome that Rogers might have been forced to shut the tower. Even more concerning was the fact that because of a recession-prompted decline in traffic, the airport's share of total costs was expected to rise to 45 percent, adding an additional $60,000 in tower-related expenses.
"We argued that pulling the plug on the tower in the midst of one of the worst economic crises in the history of our country was probably not the wisest idea," the airport manager explained in his interview with Bloomberg. Pryor and Womack, a former mayor of Rogers, said they pushed for the measures because city officials asked for it, and it would help the local economy. As FAA data show, it did lower Rogers's share of tower costs to $81,000 this year.
Wal-Mart does not directly pay for the tower, which is staffed by four controllers. Rather, the airport funds its operations by collecting rent on facilities like hangers or by charging fees on fuel sales, Krutsch told Bloomberg. He argued that the FAA's formulas were skewed and that the high number of jet-powered planes that use the facilities means it would benefit more from a tower than airports that primarily saw traffic from smaller, piston-powered aircraft.
Follow Meghan on Twitter @MFoley_WSCS