Hey Taxpayers: You are Putting Cash in CEO Pockets
Even as high-profile corporate executives call for reductions in Social Security and Medicare, they are pocketing money that could have gone to government coffers. Corporate tax law in the United States allows companies to deduct "performance" based executive compensation.Laurence Fink — chief executive officer of BlackRock Inc. (NYSE:BLK) and pictured above receiving an award in corporate citizenship — has received $119 million in performance compensation over the past three years, resulting in a tax break $42 million for the company. Fink is also a member of "Fix the Debt" — a lobby group that is for reducing earned benefits like Social Security and Medicare.
Fix the Debt has recruited a number of high-profile CEOs and corporations to spread its message. Right now, the group is for pushing the retirement age to 70. The catch? The Institute for Policy Studies and Campaign for America's Future found that the 90 publicly traded corporations that are members of Fix the Debt ended up saving between $953 million and $1.6 billion in taxes because of the performance pay loophole in U.S. tax law.
This boils down to an ideological battle: raise taxes on the rich or reduce the benefits that the poor are most dependent on. Either way, action will eventually need to be taken. Social Security and Medicare are in need of a drastic overhaul to remain solvent in the future.
The call to reduce earned benefits in the U.S. comes at a time when the rich have never been richer. Despite the efforts of movements like the 99 percenters, this inequality looks like it is go nowhere. Below is a chart showing how America families — divided into quintiles by wealth — has changed from the late 1960s to the late 2000s. The evidence is pretty clear. Erin Currier, project manager of the Pew Economic Mobility Project, said "It calls into question the quality of the opportunity Americans believe exists in the United States."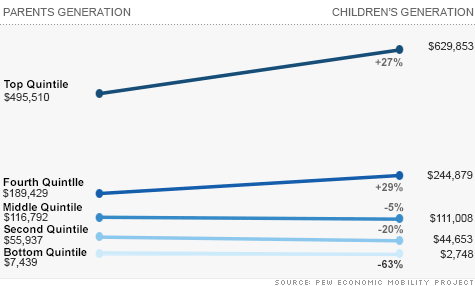 Don't Miss: 6 States That Provide a Tax Haven For the Unemployed.