Higher Incomes Are Helping Out the American Consumer
Consumer spending — an important gauge for the health of the United States economy, as it accounts for about 70 percent of gross domestic product — has been closely watched since the Great Recession officially ended in June 2009. In recent months, reports from the Federal Reserve, the U.S. Commerce Department, and the ICSC-Goldman Store Sales Index have shown a mixed reading of this sector. However, the Commerce Department indicated Monday that Americans spent more last month and their income grew, an indication that the tax increases implemented at the beginning of the year have not yet held back spending.
The Commerce Department said Monday that consumers spending increased 0.2 percent in March, following a 0.7 percent jump in February and 0.3 percent gain in January. Analysts had expected just a 0.1 percent rise. Personal income increased 0.2 percent last month, a slightly softer result than forecast. In February, the measure rose 1.1 percent.
Early in the year, the consumer spending growth thesis put forward by many analysts, pundits, and even several retailers themselves postulated that the end of the payroll tax holiday would cause the majority of Americans to tighten their financial belts and cut way back on discretionary spending. But, so far, higher income has helped offset the increase in the tax that funds Social Security, which took effect on January 1.
The 2 percentage point increase has reduced taxable income for nearly all Americans. For example, a person earning $50,000 will have about $1,000 less to spend this year while a household with two highly-paid workers will have up to $4,500 less. This reality could slow consumer spending and economic growth in the April-June quarter.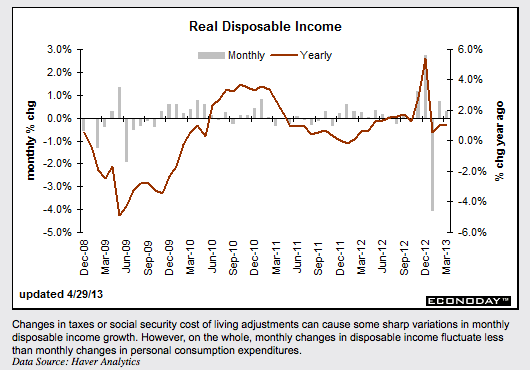 A key sign that consumer spending has remained relatively strong despite several concerning reports from the Labor Department is first-quarter GDP growth. On Friday the government said that the economy expanded at an annual rate of 2.5 percent, a far better figure than the 0.4 percent growth recorded in the fourth quarter. Furthermore, consumer spending rose from January through March at the fastest pace in more than two years. Still, several reports indicate that consumers are beginning to feel the impact of the tax hike; sales at retail stores and restaurants dropped in March by the most in nine months.
Other trends could slightly mitigate the effect of the added tax burden. Consumers have both cut the size of their debts and rising home values, and stock prices have increased household wealth.
However, growth remains below what is expected in a healthy economy; with an unemployment rate between 5 percent and 6 percent, GDP growth of 2.5 percent or 3 percent would be considered solid. But the U.S. has not been able to keep that pace since the recession ended nearly four years ago. With the economy still struggling to recover and unemployment at 7.6 percent, the economy needs faster growth to generate enough jobs to significantly decrease unemployment. The economy expanded at just 2.4 percent in 2010, 1.8 percent in 2011, and 2.2 percent in 2012.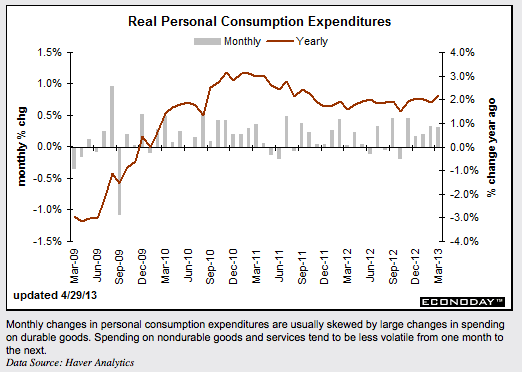 Don't Miss: Identity Theft Victim: Walmart Doesn't Care.