Higher Taxes Yield First January Surplus in 5 Years
Here's a bit of good news to brighten up your day: U.S. government total receipts for January 2013 were higher than total outlays. This is the first January budget surplus for the Treasury since 2008. It's hard to see on the graph below, but believe it or not there's a tiny vertical bar at the far right indicating a surplus of $2.88 billion. This compares to a deficit of $27.4 billion in January 2012, and is particularly satisfying given that the median estimate of economists polled by Bloomberg called for a $2 billion deficit.
The surplus is largely thanks to higher receipts (i.e. revenue) as a result of the tax agreement that was reached at the beginning of the year. The tax increase on high-end incomes and the expiration of the payroll tax holiday helped January receipts increase 16.17 percent year over year, while outlays increased just 2.90 percent.
The news is good, but not worth opening an expensive bottle of wine over. Fiscal year-to-date data shows that 2013 is already showing a net deficit…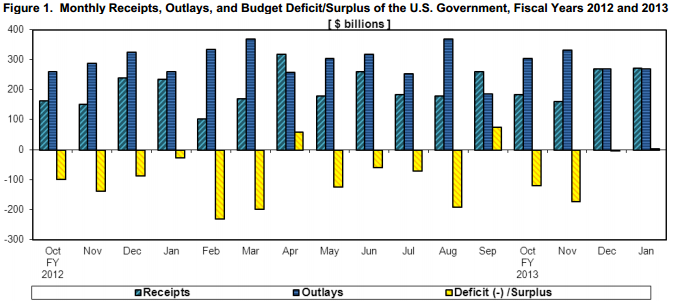 Total fiscal year-to-date outlays are $1.178 trillion, while total receipts for the period are $888 billion, yielding a deficit of $290 billion. (Keep in mind that the government's fiscal year begins with October.) This total deficit is mainly the product of the first two months of the fiscal year, before the next tax policy went into effect, and government receipts were relatively low.
Fiscal year-to-date receipts are 12.41 percent higher so far in 2013 than they were in 2012, while total outlays are 3.45 percent higher for the period.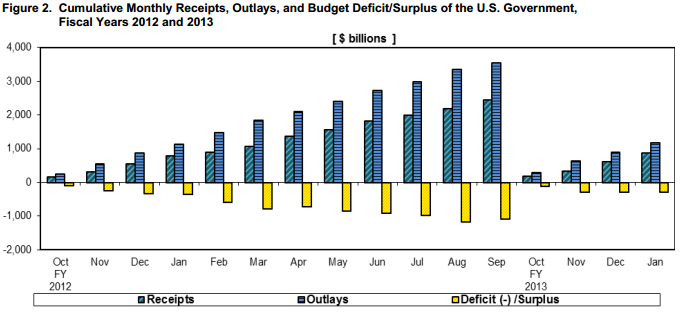 Don't Miss: Is U.S. Confidence Still Recovering from Congress?