Highway Holdings Ltd Earnings Cheat Sheet: Boosts Topline Growth
Highway Holdings Limited (NASDAQ:HIHO) reported higher profit for the fourth quarter as revenue showed growth. Highway Holdings, Ltd. is mainly a fully integrated manufacturer of high quality metal, plastic, electric and electronic components, subassemblies and finished products for major Japanese, German and United States OEMs and contract manufacturers.
Don't Miss: Wall St. Cheat Sheet's newest Feature Trades of the Month!
Highway Holdings Earnings Cheat Sheet for the Fourth Quarter
Results: Net income for Highway Holdings Limited rose to $789,000 (21 cents per share) vs. $161,000 (4 cents per share) in the same quarter a year earlier. This is a more than fourfold rise from the year earlier quarter.
Revenue: Rose 31.8% to $7.9 million from the year earlier quarter.
Quoting Management: "Results for fiscal 2011 reflect a strongly improved business environment and the benefits of streamlining operations to enhance operating efficiencies," said Roland Kohl, president and chief executive officer of Highway Holdings. He highlighted the two key strategic initiatives implemented during the past few years that have greatly enhance profitability; reducing the company's operations from four factories to one, and the utilization of automation in its manufacturing process. "As a consequence, the company was able to further improve its balance sheet and increase its cash position to take advantage of future strategic growth opportunities," Kohl said.
Key Stats:
Gross margin shrank one percentage point to 22.5%. The contraction appeared to be driven by increased costs, which rose 33.6% from the year earlier quarter while revenue rose 31.8%.
Revenue has risen the past four quarters. Revenue increased 51.5% to $9 million in the third quarter. The figure rose 50.1% in the second quarter from the year earlier and climbed 39.8% in the first quarter from the year-ago quarter.
Competitors to Watch: Deere & Company (NYSE:DE), General Electric Company (NYSE:GE), Astec Industries, Inc. (NASDAQ:ASTE), Columbus McKinnon Corp. (NASDAQ:CMCO), Manitowoc Company, Inc. (NYSE:MTW), Cummins Inc. (NYSE:CMI), CNH Global N.V. (NYSE:CNH), Navistar Intl. Corp. (NYSE:NAV), Terex Corporation (NYSE:TEX), and Lindsay Corporation (NYSE:LNN).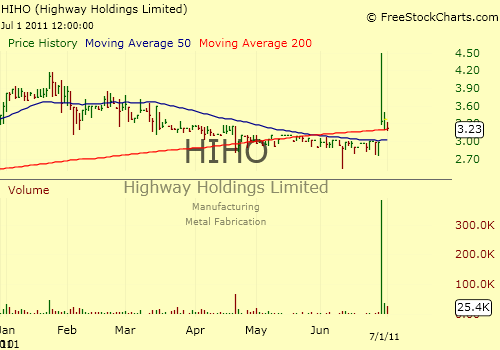 Don't Miss Wall St. Cheat Sheet's newest Feature Trades of the Month!
(Source: Xignite Financials)