Holiday Spending: Will It Be Coal for Retailers This Year?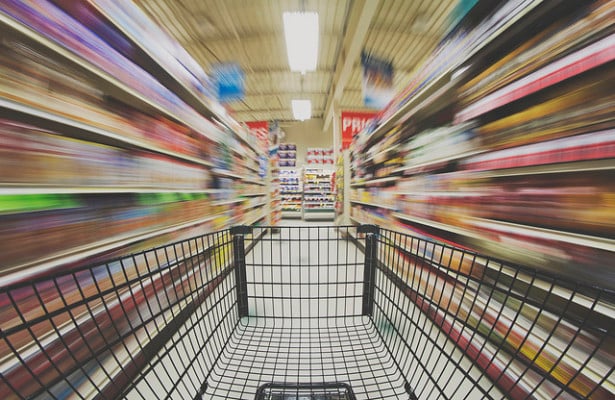 "Consumers appear to be willing to spend beyond what the tepid job creation and minimal income growth over the past several quarters would suggest," wrote Sterne Agee economist Lindsey Piegza in a research note acquired by the Los Angeles Times. "Going forward, sustained job creation and bigger income checks are needed to maintain heightened spending patterns, but at least for the moment, short-term optimism may result in more than coal for retailers this holiday season."
In Piegza's opinion, many Americans are feeling wealthier thanks to stock market gains, cheaper fuel, and indications of an improving economy. While the stock market may be roaring — the Dow Jones industrial average passed 16,000 for the first time last Monday and the Nasdaq has been hovering around 4,000 — wages have been flat for several years, and unemployment ticked up to 7.3 percent in October. Plus, barely more than half of Americans own stock, personally or jointly with a spouse, as part of a mutual fund or a retirement account such as a 401-K, which compares to the 67 percent who owned stock in 2007, a clear indication that the slow economic recovery has yet to reach many. Even more to the point, among those who do own stock, wealth is highly concentrated. According to New York University economic professor Edward Wolff, the richest 10 percent of households accounted for 81 percent of the total value of stocks in 2010.
Yet, surprisingly, there may be some evidence of the short-term optimism Piegza described. As Gallup reported on November 12, the firm's Economic Confidence Index began to slowly increase nearly four weeks after the partial government shutdown drove confidence to a low of minus 39 in mid-October. Beyond the ending of the political stalemate in Washington, the uptick in the index "may have also been attributable to the [Bureau of Labor Statistics] jobs report for October that exceeded many economists' expectations and record-high stock prices." More concrete data will be available after Tuesday morning's release of consumer confidence figures from the Conference Board.
But retailers are still facing mixed signals for the upcoming, all-important holiday shopping season, which could generate as much as 40 percent of their annual sales. A negative take on holiday shopping was provided by Gallup, whose estimated holidays spending survey showed that consumers now expect to spend an average of $704 on gifts this season, down from the $770 they forecast at this time last year and down from the $786 they predicted in October.
Wal-Mart's (NYSE:WMT) shaky third-quarter results can also be seen as a bad omen for the economy and the retail sector. The company generates roughly one-tenth of nationwide retail sales at any give time, and the fact that revenue failed to surpass expectations sent a worrisome signal about the American consumer's confidence in the economy and the state of their wallets heading into the shopping surge "The retail environment, both in stores and online, remains competitive," Wal-Mart Chief Executive Officer Mike Duke explained in an audio recording released with the earnings report on November 14. "At the same time, some customers feel uncertainty about the economy, government, jobs stability and their need to take care of their families through the holidays."
However, the last marker of the health of consumer spending before the holiday shopping season — the Department of Commerce's October retail sales report — gave the retail sector a reason to scale back their panic. Consumers spent more than expected, pushing sales up 0.4 percent last month, far above the 0.1 percent increase expected by economists surveyed by Bloomberg. Total sales amounted to $428.1 billion, a 3.9 percent jump from October 2012. Similarly, weekly snapshots of retail sales suggests consumers are spending.
But measures taken by the International Council of Shopping Centers, in conjunction with Goldman Sachs, and the Johnson Redbook Index, show that retails sales have been generally mixed on both a week-over-week basis and a month-over-month basis since the government shutdown and debt crisis was resolved during the week ended October 19. Sales did lose momentum during a few weeks and data for the past week was cloudy for the ICSC-Goldman same-store sales index.
In the week ended November 23, ICSC-Goldman's same-store sales index jumped 2.6 percent, week over week, after expanding at a modest 0.1 percent rate in the previous week. However, on a year-over-year basis, the index's growth expanded at a slower pace, increasing 2.1 percent compared to the previous week's 2.8 percent expansion. Over the past six weeks, the index's weekly comparison has only been negative for two non-consecutive weeks, while the yearly comparison has remained positive, slowing only temporarily at the beginning of the month. But looking at the overall picture, trends for this report remain relatively flat going into Black Friday.
"Demand was mixed this past week with stronger discounter and dollar store business, and softer drug, office and apparel store business," ICSC Chief Economist Michael Niemira said in the press release announcing last week's numbers. "With more consumers likely to shop during the Thanksgiving week than in the past year, much of the month's performance will be dependent on how business is during Black Friday and over the course of the weekend," Niemira added. For the month, ICSC Research forecast a sales increase of between 3.5 percent and 4.5 percent on a year-over-year basis.
Comparatively, the Johnson Redbook Index showed strengthening same-store sales for the week ended November 23. Growth has been somewhat flat over the past six weeks; the index has expanded 3.8 percent over the past 12 months, which compares with the previous week's 3.5 percent rate of growth. But, Redbook's monthly comparison rose 0.5 percent rate after contracting 0.7 percent the week before.
Typically, November is seen to be a transitional month, where retailers often clear unsold fall merchandise and prepare for the holiday season. In addition, the month is significantly back-loaded with most business contributed in the last two days following Thanksgiving, which kick off the holiday shopping season.
Follow Meghan on Twitter @MFoley_WSCS
Don't Miss: Best Deals at 5 Retailers Going Big on Black Friday Eve.