Home Depot Boosted by Housing Rebound and 2 Stocks Hitting 52-Week Highs
GlaxoSmithKline (NYSE:GSK): Closing price $47.75
An abstract that contains the results of the United Kingdom firm's drisapersen study, the results of which are important for Sarepta, was published in full in a post on TheStreet.com. The abstract states that "The continuous treatment arm showed a clinically meaningful and statistically significant difference from placebo," and that "Drisapersen may represent an important treatment option for boys with DMD having mutations correctable by exon 51 skipping." The abstract was released in a post by TheStreet's Adam Feuerstein, and The Fly notes that Feuerstein had previously tweeted that the drisapersen data looks good for Sarepta's eteplirsen. Shares closed up 0.91 percent on Wednesday at $47.75, and have been traded in a 52-week range of $41.68 to $47.79.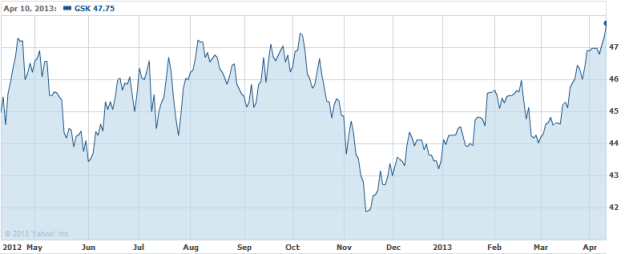 Home Depot (NYSE:HD): Closing price $71.69
Given a tailwind by the recent rebound in the United States housing market, shares touched a new 52-week high of $71.57 Tuesday, before closing at $71.20. Zacks Equity Research ranks the stock as number 3 with a Hold; the home improvement retailer surpassed its previous 52-week high of $71.45 and has brought a year-to-date return of around 12.8 percent. Average volume of shares traded over the last 3 months stood at approximately 6,772,000. Currently, the stock trades at a forward P/E of 20.3x, flat to its peer group. Shares closed up 0.69 percent on the day at $71.69, having been traded between $46.37 and $71.79.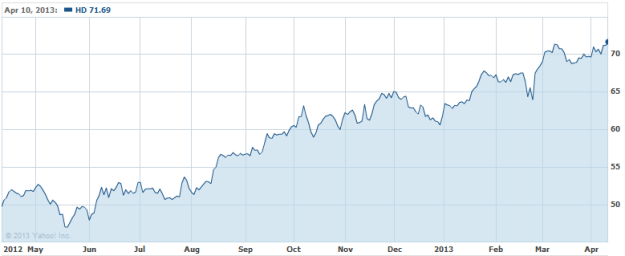 Kellogg Company (NYSE:K): Closing price $64.62
Kellogg's will host a live audio webcast of its 2013 annual meeting of shareowners on April 26th, 1:00 to 2:30 p.m. Presentation slides will be available for viewing and download. In the program, Jim Jenness, Kellogg Company Chairman, and John Bryant, Kellogg Company president and CEO, will be speaking on behalf of Kellogg Company. A question and answer session with shareowners in attendance will follow. Shares closed up 1.17 percent on Wednesday at $64.62, and have been traded in a 52-week range of $46.32 to $64.76.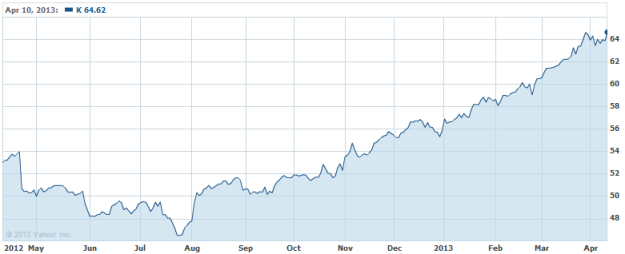 Investing Insights: Does Wal-Mart Support All-Time Highs?