Home Depot Moves Health Coverage for Part-Timers to Exchanges and 2 Other Dow Movers to Watch
Home Depot Inc. (NYSE:HD): Current price $7.62
Home Depot spokesman Stephen Holmes told NBC that his company is transferring medical coverage for part-time workers to the new public marketplace exchanges prior to the rollout of new benefits requirements under the Affordable Care Act. The home improvement retail chain announced its decision following a similar announcement from Trader Joe's. Home Depot's modification will affect about 20,000 part-time employees who previously had chosen the limited liability medical plan offered by the company.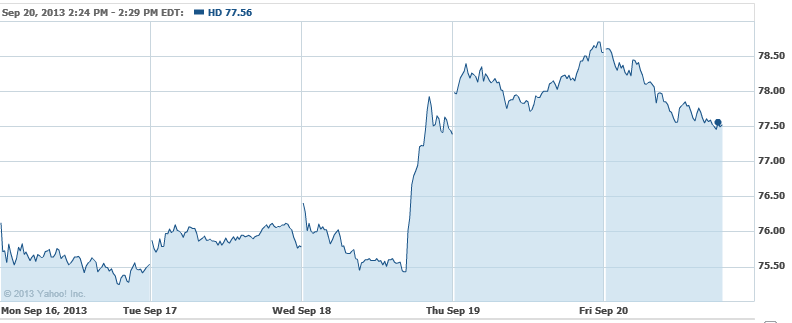 Proctor & Gamble Co. (NYSE:PG): Current price $79.89
On Friday, P&G's Oral-B debuted the Oral-B App, a digital tool for brushing teeth that provides users a new sort of personal power over their oral care. The application gives visual feedback that supports users in their oral care routines and offers a  content feed — with calendar events, news, weather, and oral care tips — to sustain users' attention for the two-minute session, the company said in a press release.

Hewlett-Packard Co. (NYSE:HPQ):Current price $21.52
Hewlett-Packard announced a number of new notebooks and tablets targeted at holiday shoppers. The ENVY will go for $1,049.99, with other new releases ranging between $599.99 and $1,099.99. The firm also released a notebook-tablet combination, the Spectre 13 Ultrabook, which features a detachable screen.

Don't Miss: 5 Popular Tech Firms Rewarding Investors With Dividends.