Home Depot Opposes Plastic Settlement and 2 Stocks at 52-Week Highs
Forest Laboratories (NYSE:FRX): Closing price $38.31
Forest will release its fiscal 2013 fourth quarter financial results before the open on April 23, and at 10:00 a.m. Eastern Time, will host a conference call in which Executive Vice President, Sales & Marketing Elaine Hochberg, and Chief Commercial Officer, Frank Perier, and Senior Vice President Research & Development and President Dr. Marco Taglietti,will discuss the financial results and relevant company and industry topics. The firm is an international manufacturer and marketer of pharmaceutical products. Shares closed up 0.63 percent on Thursday at $38.31, and have been traded in a 52-week range of $31.28 and $38.45.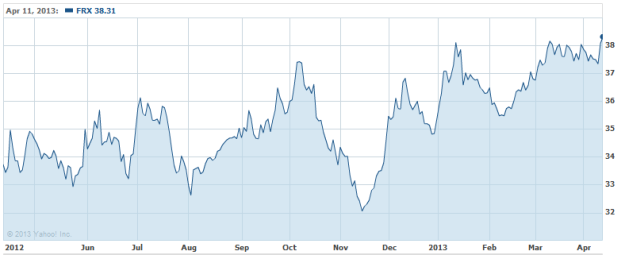 Home Depot (NYSE:HD): Closing price $71.90
The Retail Industry Leaders Association reports that it will opt out of a multibillion-dollar antitrust resolution with Visa (NYSE:V) and MasterCard Incorporated  (NYSE:MA) regarding the so- called swipe fees, calling it a "bad deal for retailers." On Thursday, the trade group said in a statement that it would forgo damages payouts and objects to the agreement, which may be worth as much as $7.25 billion. The settlement is estimated to be the biggest-ever antitrust settlement, and would end a case claiming that the card companies conspired with major banks to fix the fees charged to merchants when customers pay with plastic. Home Depot is among a number of retailers who have publicly opposed the accord. Shares closed up 0.29 percent on the day at $71.90, having been traded between $46.37 and $72.60 for the last 52 weeks.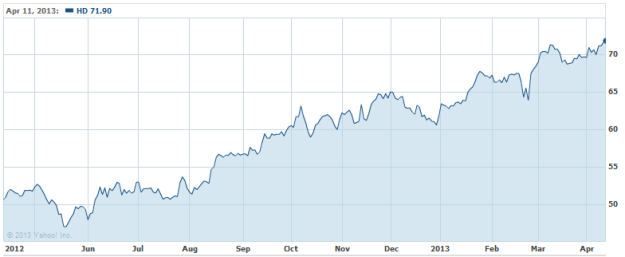 Isis Pharmaceuticals (NASDAQ:ISIS): Closing price $19.21
The firm recently announced the start of a phase I study on an antisense candidate targeting apolipoprotein, ISIS-APOA, for treating patients suffering from atherosclerosis. Zacks Equity Research commented, "We note that apolipoprotein-a helps in the formation of plaque in arteries through its attachment to an LDL-C particle in a complex known as lipoprotein or Lp. Elevated levels of Lp-a are associated with an increased risk of cardiovascular events such as atherosclerosis, coronary heart disease, heart attack and stroke." Shares closed up 4.97 percent on Thursday at $19.21, and have been traded in a 52-week range of $7.0 to $19.60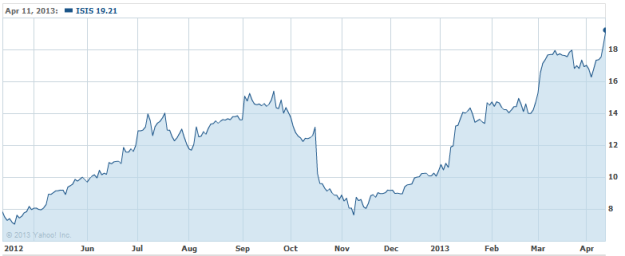 Don't Miss: Student Debt Weighs on Graduates Seeking Homeownership.