Home Depot Rebuilds Profits and 2 More Stocks Riding 52-week Highs
Aetna (NYSE: AET): Current price $56.78
The insurer recently improved its Healthy Lifestyle Coaching program to give both employers and employees the same type of flexibility in a wellness program. The enhancements to the HLC program target and build upon successful results the program has already seen. Aetna's research of 80 employers who used the HLC program discovered that these employers had a 150-percent return on investment from lowered medical and pharmacy costs, decreased absenteeism and improved productivity. Shares closed up 0.14 percent on Friday at %56.78, and have been traded in a 52-week range of $34.58 to $56.93.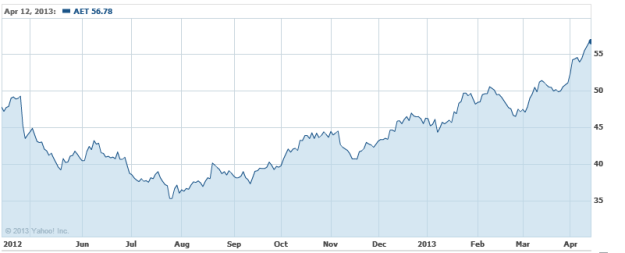 Cintas Corporation (NASDAQ:CTAS): Closing price $45.88
For the 14th straight year, customers of Cintas Corporation won Image of the Year  awards during a banquet held by the North American Association of Uniform Manufacturers and Distributors in Orlando. Chosen from an extensive list of prominent nominees, Marriott Hotels & Resorts, Grand Hyatt San Francisco and The Breakers Palm Beach were presented with awards based on the design, versatility and quality of their apparel programs. Shares closed up 0.66 percent on the day at $45.88, having been traded between $35.41 and $45.94 in the past 52 weeks.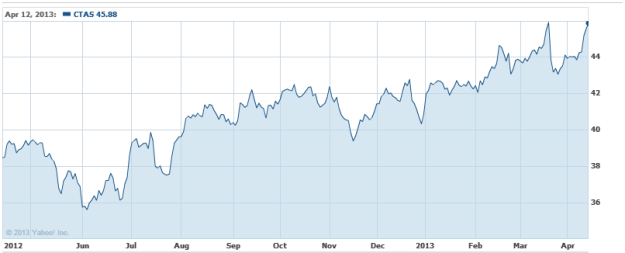 The Home Depot (NYSE:HD): Current price $73.62
The number-one home improvement retailer has been rebuilding sales, profits and dividends subsequent to the housing bust. Shares have outperformed the S&P 500 in 2013, climbing 19 percent thus far, and touching a new high Friday. It cleared a short, four-week consolidation in  the past week, and it's up roughly 45 percent over the past 12 months. None of this was thrown off track as the firm announced back in February that it was boosting its quarterly dividend by 34 percent to 39 cents a share. The annual dividend yield stands at 2.2 percent at the current share price, just barely below the S&P 500 average of 2.4 percent. Shares closed up 2.39 percent on Friday at $73.62, and have been traded in a 52-week range of $46.37 to $73.66.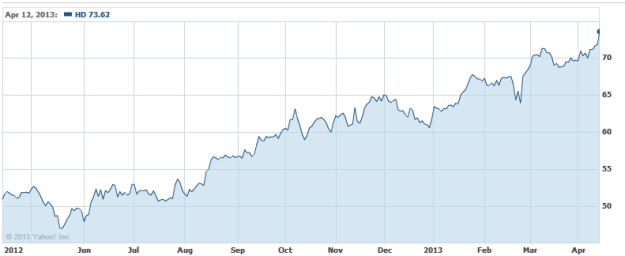 Don't Miss: Don't Forget About These 5 Commonly Forgotten Tax Deductions.