Home Prices Climb Back to 2004 Levels
Home prices in the United States logged another gain in November, but fell short of estimates, according to the latest Federal Housing Finance Agency report.
The agency's index showed that prices increased 0.6 percent in November from October on a seasonally adjusted basis,  slightly below the 0.7 percent average estimate of 15 economists in a Bloomberg survey. For the 12 months ending in November, U.S. prices gained 5.6 percent. The FHFA index is back to 2004 levels, but still remains 15.2 percent below its April 2007 bubble peak.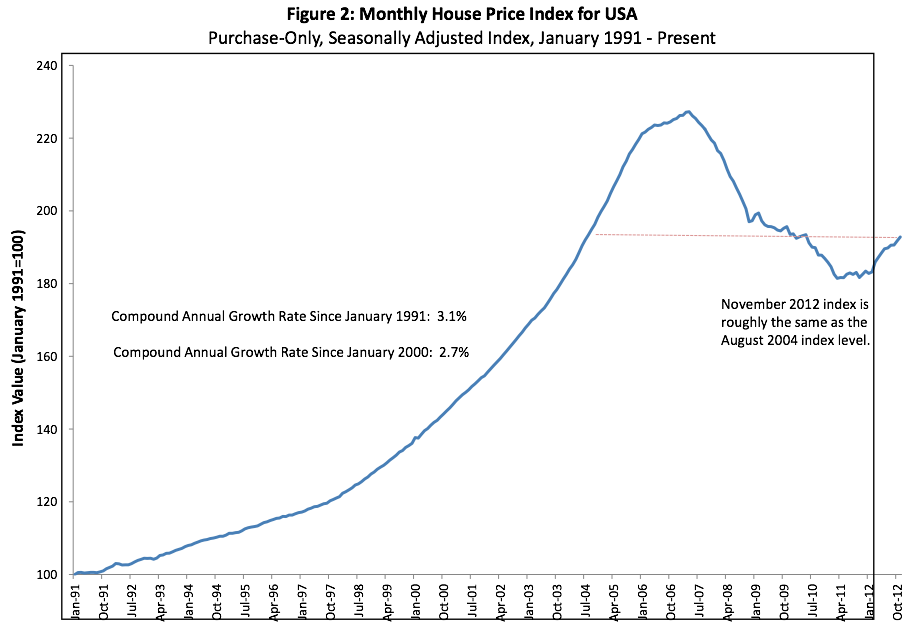 The advance was led by a 14.8 percent surge in the Mountain region, which includes Nevada, Utah, Colorado, Arizona and New Mexico. Home prices in the region that includes California and Washington increased 11.1 percent. The Middle Atlantic region, which is made up of New York, New Jersey and Pennsylvania, was the weakest performer with only a 0.5 percent gain.
The FHFA index is based on single-family houses with mortgages that have been sold to or guaranteed by Fannie Mae or Freddie Mac. The index does not provide a specific price for homes, but the index has not posted a decline in national home prices on a monthly basis since January 2011.
Low mortgage rates and inventory levels have been boosting home prices and sales. Earlier this week, the National Association of Realtors announced that total existing home sales in December logged their second highest rate of sales since November 2009.
Investor Insight: Here's Why CEOs are Less Confident About 2013