Home Prices Fuel Real Estate Euphoria
Due to low mortgage rates and inventory levels, the euphoria in the real estate market continues to build higher. In December, home prices increased on a year-over-year basis for the tenth consecutive month.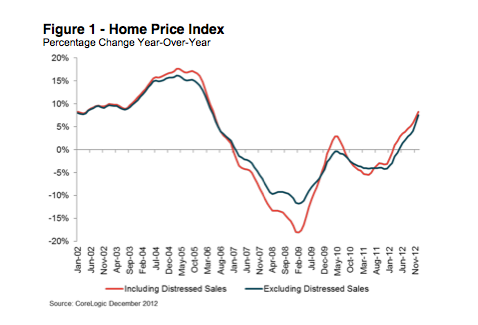 CoreLogic, a leading property information and analytics provider, reported its home price index gained 0.4 percent in December from the previous month. Compared to December 2011, home prices jumped 8.3 percent, the biggest increase in the index since May 2006. CoreLogic's data also shows that all but four states logged year-over-year price increases.
Excluding distressed sales, home prices gained 7.5 percent on a year-over-year basis in December 2012. On a month-over-month basis, home prices excluding distressed sales increased 0.9 percent from November.
Will the momentum continue this year…
"December marked 10 consecutive months of year-over-year home price improvements, and the strongest growth since the height of the last housing boom more than six years ago," said Mark Fleming, chief economist for CoreLogic. "We expect price growth to continue in January as our Pending HPI shows strong year-over-year appreciation."
Nationally, home prices are still down almost 27 percent from their April 2006 peak, but CoreLogic expects January 2013 home prices, including distressed sales, to rise by 7.9 percent on a year-over-year basis. Excluding distressed sales, home prices are set to increase 8.6 percent from the previous year.
In afternoon trading, home builders such as PulteGroup (NYSE:PHM), KB Home (NYSE:KBH) and Lennar (NYSE:LEN) all gained more than 1 percent. However, Barclays offered some caution on the sector, as it downgraded many names due to valuation concerns. The firm cut KB Home, Pulte and Realogy (NYSE:RLGY) from Overweight to Equalweight, and Toll Brothers (NYSE:TOL) from Equalweight to Underweight.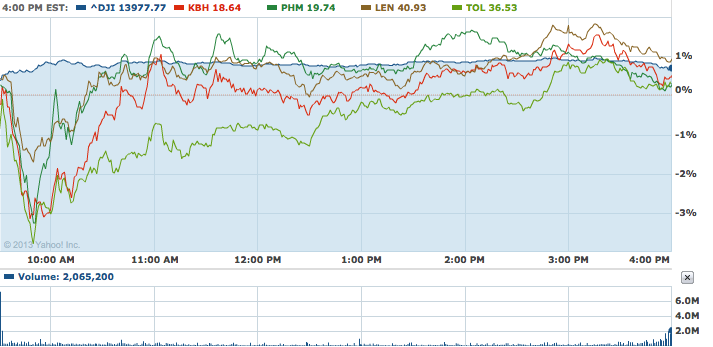 Investor Insight: Why is the Justice Department Really Suing S&P?