Home Prices Hit Best Level Since February 2005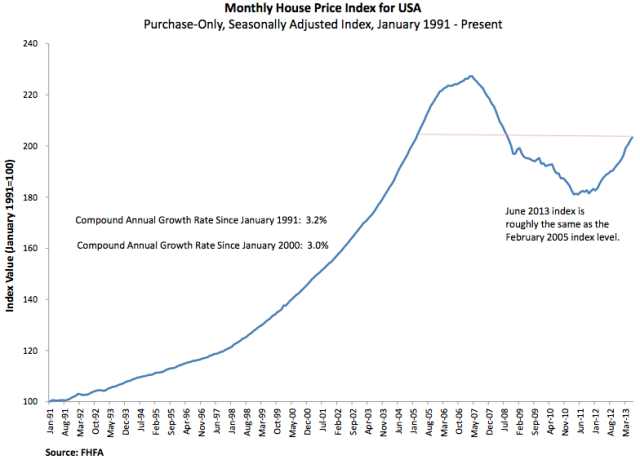 Home prices in the United States continued their relentless climb higher in the second quarter, but higher interest rates are starting to have a noticeable impact. According to the latest Federal Housing Finance Agency report, home prices increased 0.7 percent on a seasonally adjusted basis in June compared to the previous month. The House Price Index has now logged 17 consecutive monthly price increases.
The FHFA index is based on single-family homes with mortgages that have been sold to or guaranteed by Fannie Mae or Freddie Mac. The index does not provide specific prices for homes, but the index has not posted a decline in national home prices on a monthly basis since January 2011.
In the second quarter, home prices increased 2.1 percent from the previous quarter. The FHFA's expanded-data index — which includes transaction information from county recorder offices and the Federal Housing Administration — posted a gain of 2.4 percent for the second quarter.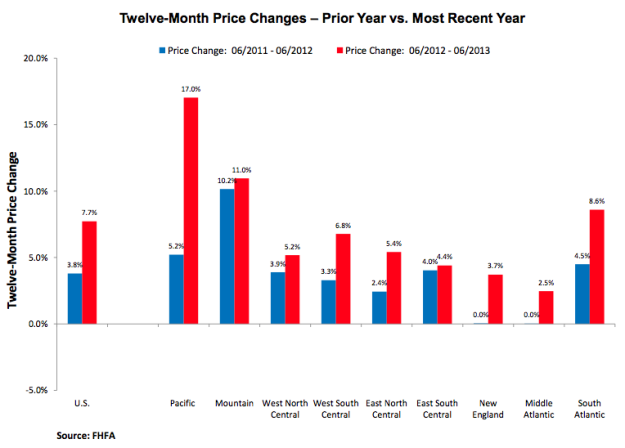 Over the last four quarters, that index is up 7.5 percent. The seasonally adjusted purchase-only HPI rose 7.2 percent from a year earlier. "The housing market experienced one of its strongest quarters since the boom in the middle of the last decade," said FHFA Principal Economist Andrew Leventis. The FHFA index is back to February 2005 levels, but still remains well below the peak made in April 2007.
Some regions are looking more bubblicious than others. The advance was led by a 17 percent surge in the Pacific region year-over-year, which includes Hawaii, Alaska, Washington, Oregon, and California.
Meanwhile, the Mountain region jumped 11 percent. However, both regions slowed their price gains from the previous month. The Middle Atlantic region was the weakest region with a yearly gain of only 2.5 percent.
While the housing market is due to slow its impressive price gains, higher interest rates are hitting consumers. According to the Mortgage Bankers Association's latest report, for the week ended August 16, loan applications dropped 4.6 percent on a seasonally adjusted basis from one week earlier — the thirteenth decline in 15 weeks.
The industry group's refinance index plunged 8 percent while the unadjusted purchase index declined 0.4 percent. In fact, the refinance index has crashed 62.1 percent from its peak during the week of May 3, 2013. Late Wednesday, Wells Fargo (NYSE:WFC) — the nation's largest mortgage lender — said it was cutting 2,300 jobs in its mortgage-production unit.
In morning trading, shares of Lowe's (NYSE:LOW) gained 2.3 percent while Home Depot (NYSE:HD) edged slightly lower. Meanwhile, home builders climbed higher across the board. Shares of Lennar (NYSE:LEN), PulteGroup (NYSE:PHM), and Toll Brothers (NYSE:TOL) all increased more than 2 percent.
Don't Miss: Is Participating in the College Debt Bubble Still Worth It?
Follow Eric on Twitter @Mr_Eric_WSCS